8 Healthy recipes with Jamón ibérico
Sure, here's the translated HTML content:
Iberian ham is part of our Mediterranean diet and is one of the most typical and traditional foods of Spanish gastronomy. It's used to make endless tasty, delicious, and of course, very healthy recipes. In this post, we're going to introduce you to 8 healthy recipes with Iberian ham to inspire you and allow you to replicate them at home in your own way.
Discover the nutritional properties of Iberian ham and the benefits of this food for health, and don't hesitate to start incorporating it into your everyday healthy recipes.
Enjoy its magnificent flavor while benefiting from its nutrients!
Rice, Quinoa, Apple, and Ham Salad
This rice, quinoa, apple, and Iberian ham salad meets the requirements for healthy recipes with ham as it provides us with a set of essential nutrients for our body.
On one hand, we choose wild rice in combination with quinoa. These foods not only provide us with macronutrients like carbohydrates and proteins but also contain minerals, vitamins, antioxidants, and of course, fiber. As a plant-based food (which should be present in every dish), we choose the apple, a source of potassium and vitamins.
We add our star ingredient: Iberian ham. A great source of proteins and healthy fats, essential nutrients in a healthy and balanced diet. Additionally, it adds other vegetables like green bell pepper or cherry tomatoes and completes the dish. The result: delicious! An irresistible contrast of flavors.


Click to learn the step-by-step process.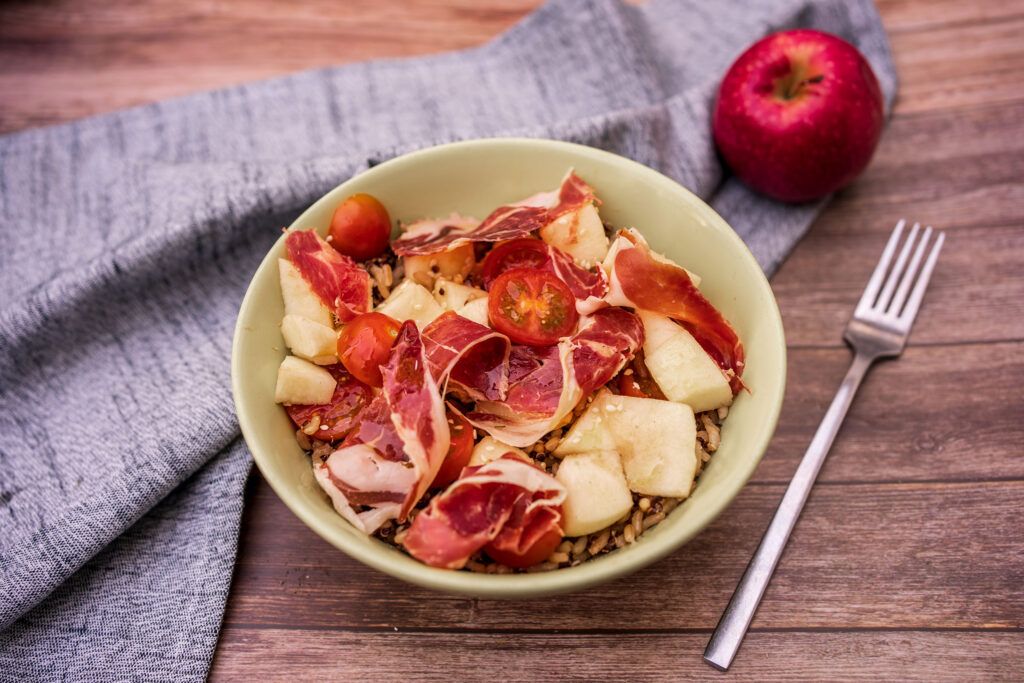 Wild Rice, Quinoa, Apple, and Ham
Green Beans with Poached Egg and Iberian Ham
The base of the dish is fine green beans, which provide few calories to the body and are rich in vitamins, amino acids, minerals, and fiber. On the other hand, we have the egg as a complement and prepare it in the form of a poached egg. This cooking method is healthier than the typical fried egg as it doesn't require a single drop of oil since it's poached in boiling water. We continue to enjoy the liquid texture of the yolk, which bursts and fills the dish with flavor that we love.
Finally, we have our star ingredient: acorn-fed Iberian ham. A source of protein and healthy fats that will enrich the dish, maximizing its flavor. Moreover, remember that if you add ham to your recipes, you can reduce their salt content, making them even more heart-healthy!


Discover how to prepare this warm green bean salad with poached egg and Iberian ham step by step.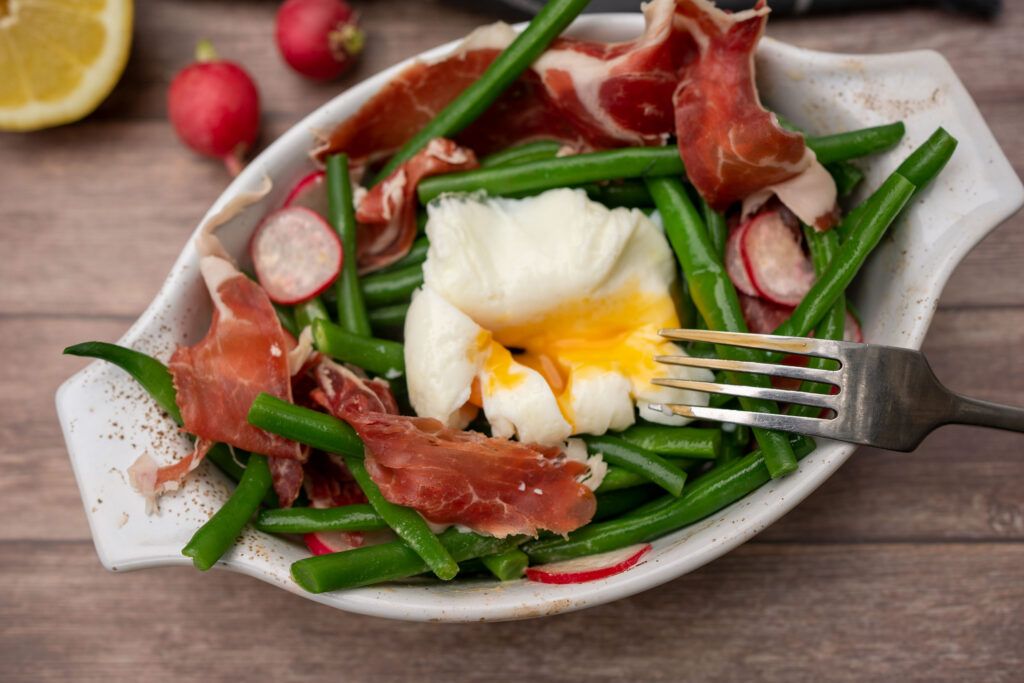 Green Beans with Poached Egg and Iberian Ham
Broccoli Omelette with Ham Shavings
This broccoli omelette with Iberian ham shavings is going to delight you because it's an easy-to-prepare and very healthy recipe, made from egg whites, broccoli, and ham shavings. Although egg yolks are also nutritionally beneficial, you might occasionally opt to make an omelette with only egg whites, which, when combined with vegetables like broccoli, provide us with a healthy lunch or dinner in just a few minutes.
In our case, we add some Iberian ham shavings to enhance the dish's flavor and nutritionally add a small proportion of healthy fats.
We leave you here the step-by-step process!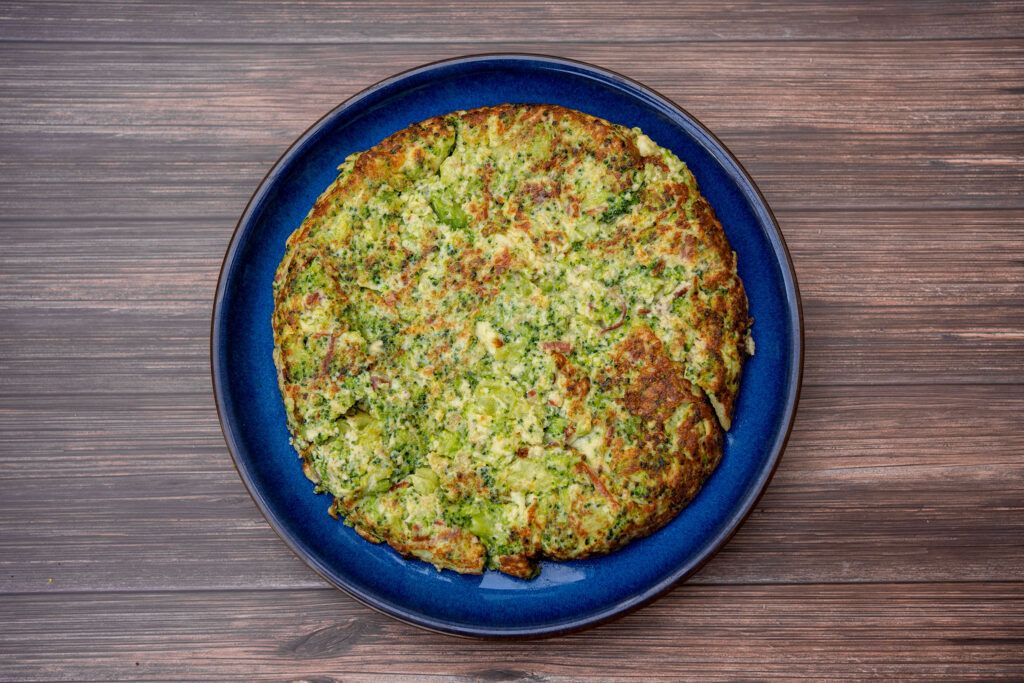 Broccoli Omelette with Ham Shavings




Zucchini with Ham and Mushrooms
One of the advantages of this dish, besides its short preparation time, is its healthy and light character. On one hand, we have zucchini as the base, one of the recommended vegetables par excellence due to its high water content, antioxidant properties, and high vitamin content. We also have mushrooms, a satiating food rich in minerals such as potassium or selenium and capable of adding flavor to endless recipes. The distinctive touch is provided by Enrique Tomás' Iberian ham shavings along with aged cheese, which with its potent and distinctive flavor will complete the recipe.


< br>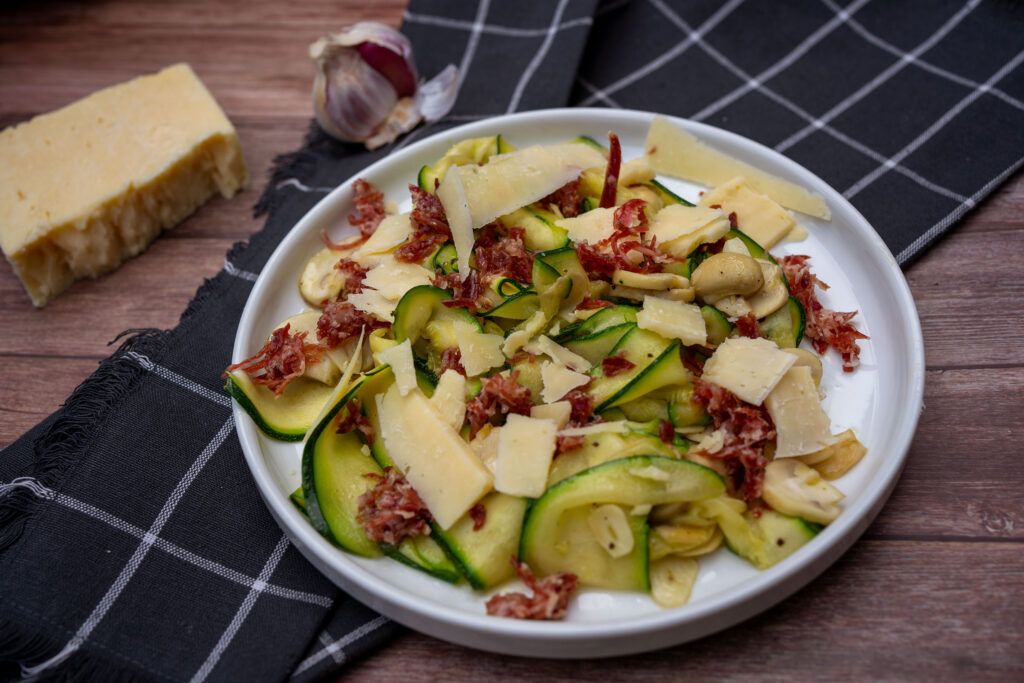 Zucchini with Ham and Mushrooms
Artichokes with Ham
The dish is based on a plant-based ingredient, the artichoke. Its high water, fiber, and inulin content make it a positive product for digestion, fat burning, and cholesterol control.
Combining artichokes with other healthy vegetables and foods, such as fruits, vegetables, or proteins, is ideal. In this recipe, we've chosen onion, garlic, and ham, in the form of shavings, as companions. The ham contributes the protein content to the dish and completes it nutritionally.
Pumpkin Cream with Iberian Ham
Soups are a safe bet for any meal or dinner, as a main dish or as a side. In our case, we prepare it with seasoning and adding Iberian ham on top, making it a very complete main dish. For the preparation of this classic recipe, we've chosen
Enrique Tomás' acorn-fed Iberian ham
. This way, we achieve that contrast between sweet and salty, which is so pleasing to diners, in addition to the combination of textures and the richness of nuances in flavor.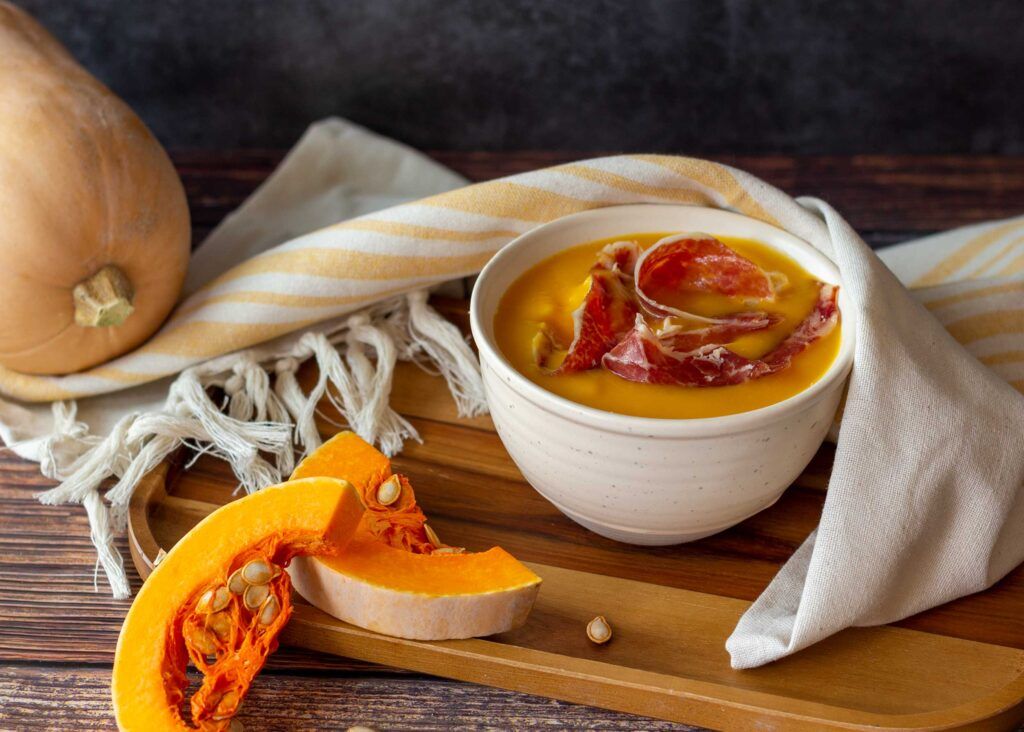 Pumpkin Cream


Mushroom, Goat Cheese, and Iberian Ham Salad
We usually associate eating salads with something boring and obligatory, and it's not at all like that. A salad can be very rich and appealing if you combine the ingredients in the best way. In this way, we've chosen mushrooms, goat cheese, a product with an unmistakable and intense flavor that is the downfall of many diners.
And to top it off, we have
Enrique Tomás' acorn-fed Iberian ham
, our five-star ham, with which you'll enjoy an incredible flavor in every bite. We add walnuts, hard-boiled egg, and a variety of lettuce, and it's ready.

We'll tell you how to prepare it step by step!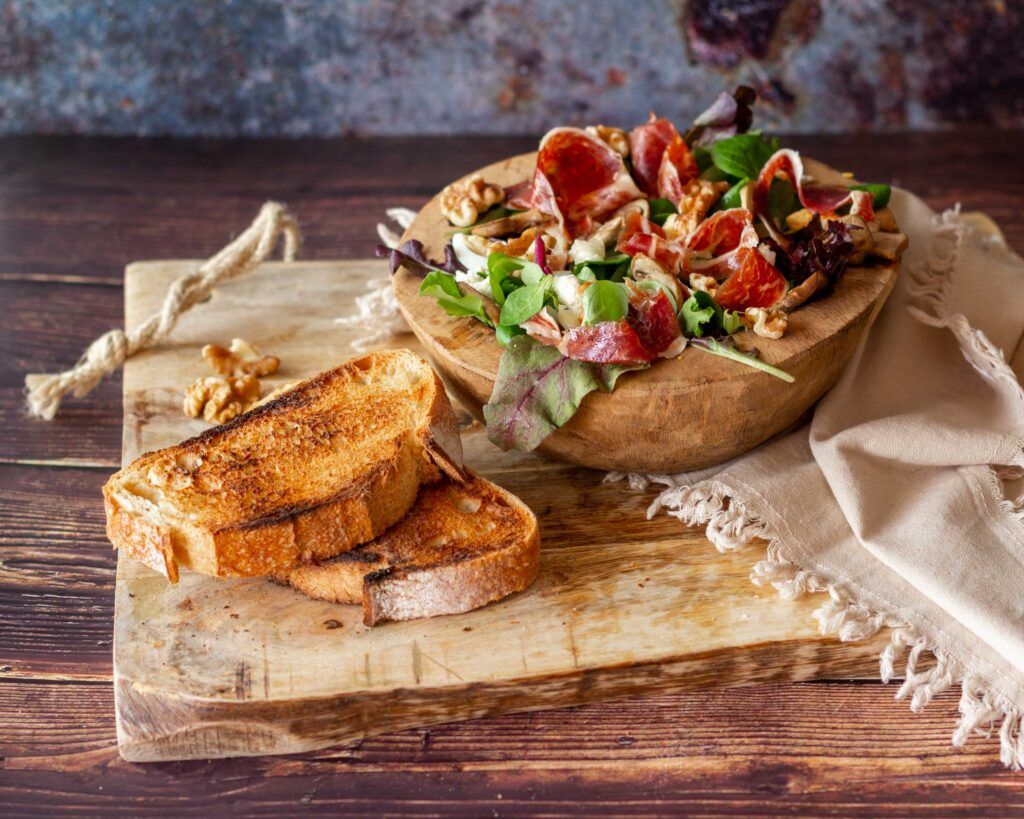 Mushroom, Goat Cheese, and Iberian Ham Salad
Cold Melon Soup with Ham
One of the most appealing and classic recipes, especially in summer, is cold melon soup with ham. You'll have it ready in just 10 minutes, and it's delicious as well. It's a light, refreshing, and tasty option with an irresistible touch of sweetness. At Enrique Tomás, we'll show you how to prepare this recipe at home easily and quickly.
Melon is a fruit with a high water content, making it perfect for keeping us hydrated on hot days. Additionally, it contains many nutrients and few calories. Its taste is especially sweet, so in combination with ham and its salty and tasty character, these two elements become the perfect match.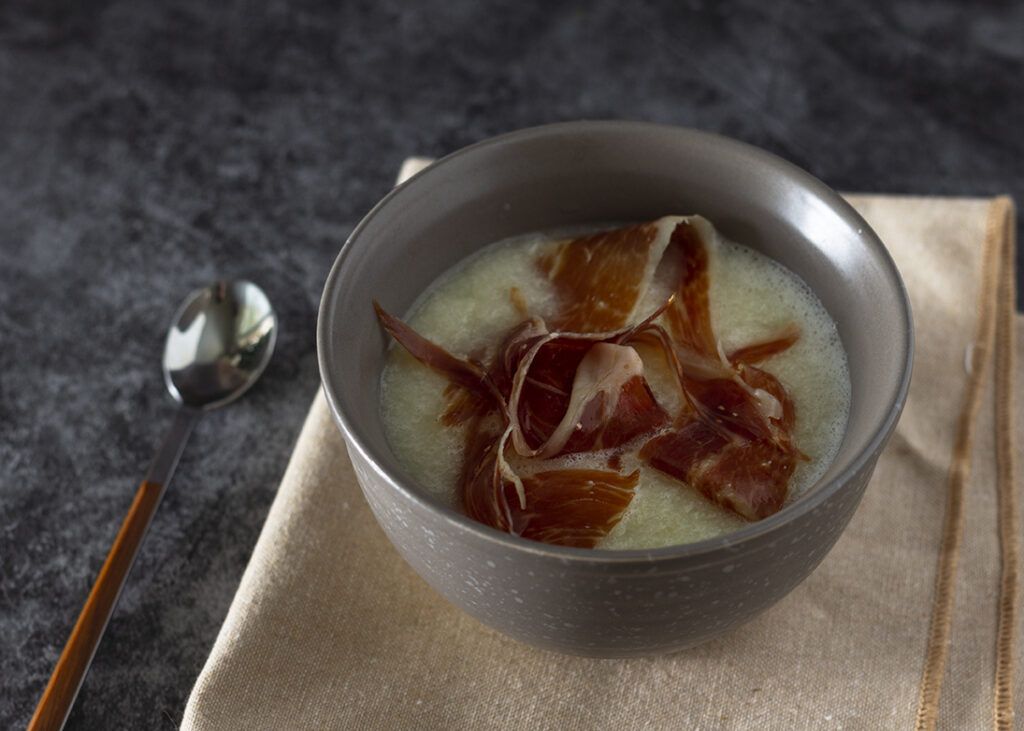 Cold Melon Soup with Ham
Interested in our healthy recipes with Iberian ham? You'll find many more on our blog! Get inspired and start including this food in your daily meals.
Find thousands of flavorful, light, and very healthy ideas.