With good weather, what we most crave are light and refreshing dishes, those recipes that we can prepare quickly but that, at the same time, give us good results and contain all the necessary nutrients. Salads fulfill all these requirements. Below, we present 8 salad ideas with ham.
These types of recipes have the advantage that they can be taken everywhere. Put them in a reusable container and head wherever you want! The park, the beach, work... all places are good for enjoying a delicious salad.
Whether you're on vacation or not, preparing a good salad is always an ideal option.
8 Salad Ideas
Countryside Salad
The typical countryside salad is one of the most well-known and popular recipes in our country. The base of the dish is potatoes combined with vegetables like onion or tomato and with some canned fish like tuna or bonito. In our case, we wanted to add a distinctive value by including Iberian ham, one of the star products of our gastronomy.
The ham, with its nutritional properties, adds the protein part to the dish, along with boiled eggs, an element that should never be missing in a countryside salad.


Discover the step-by-step to prepare this salad!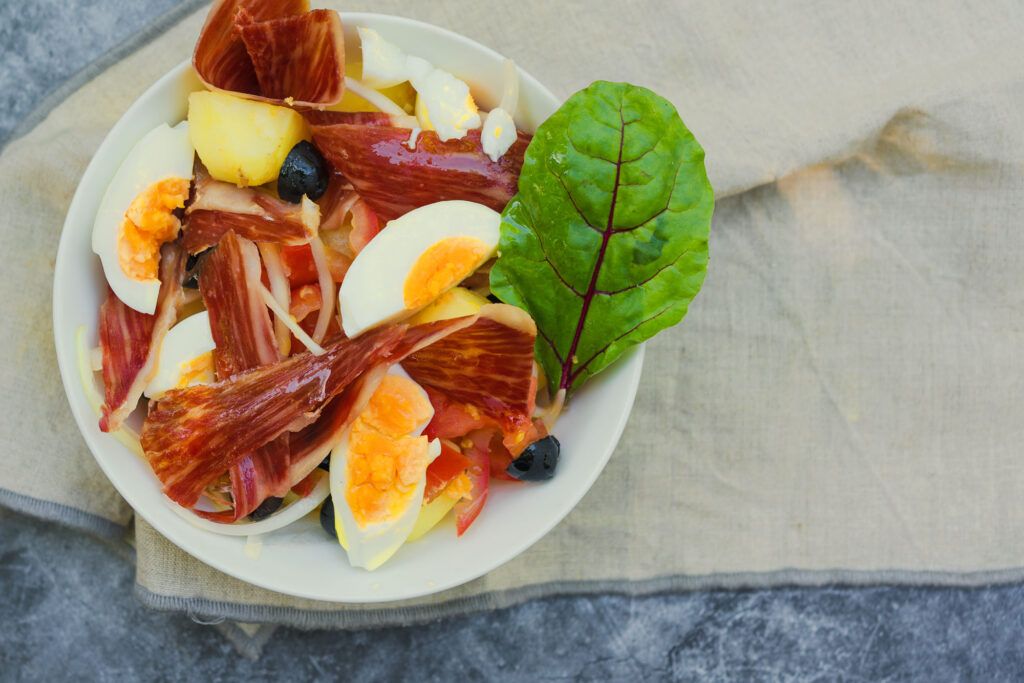 Countryside Salad
Burrata Salad
The burrata salad is a fresh and healthy recipe, ideal for summer days. Its preparation is very simple and quick. In this case, the added value of the dish lies in the quality of each ingredient: seasonal tomatoes, Italian "burrata" cheese, fresh basil leaves, extra virgin olive oil, and, of course, bits of Iberian ham that bring uniqueness and intensity of flavor to the recipe.


How do we prepare it at Enrique Tomás? Let us tell you!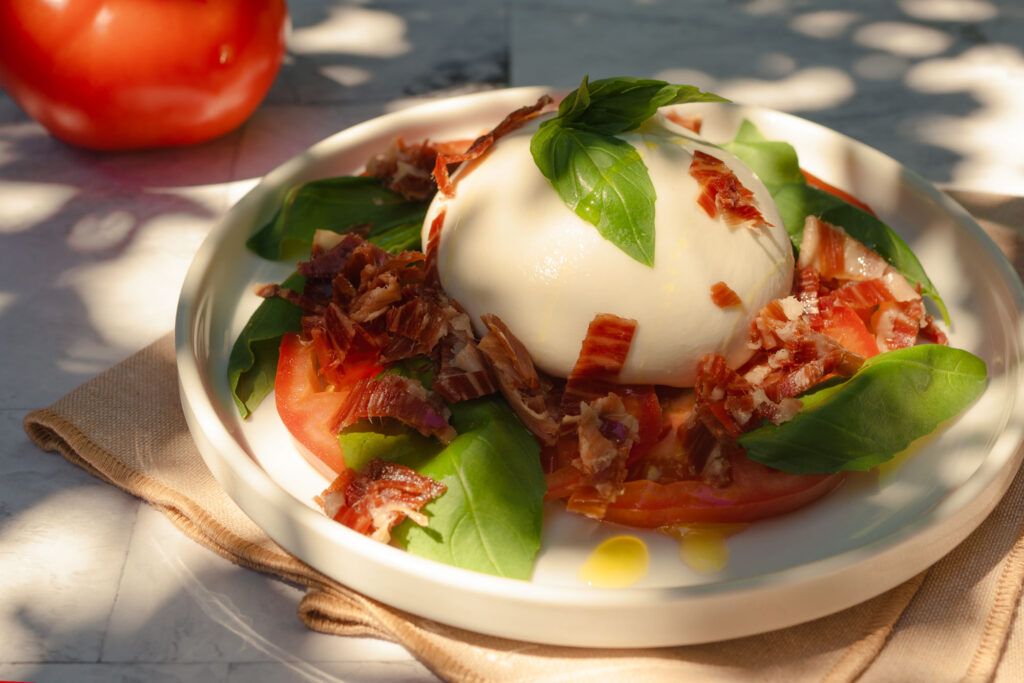 Burrata Salad
Goat Cheese Salad
The goat cheese salad is a delicious dish that has become increasingly popular in recent years within our country's gastronomy. In fact, it's one of the dishes that can't be missing from any restaurant's menu. Each chef has their proposal, and the combination of ingredients for preparing this salad can be infinite. It's typical to add fruits like strawberries, grapes, or berries - which combine perfectly with the cheese. Nuts such as pumpkin seeds or walnuts and animal-derived ingredients like bacon, ham, and eggs are also commonly included.
In this case, we opt for a minimalist proposal where the focus is on goat cheese and Iberian ham. To accompany them, we use pumpkin seeds and, of course, extra virgin olive oil.


Quick and easy preparation - it'll be ready in just 10 minutes.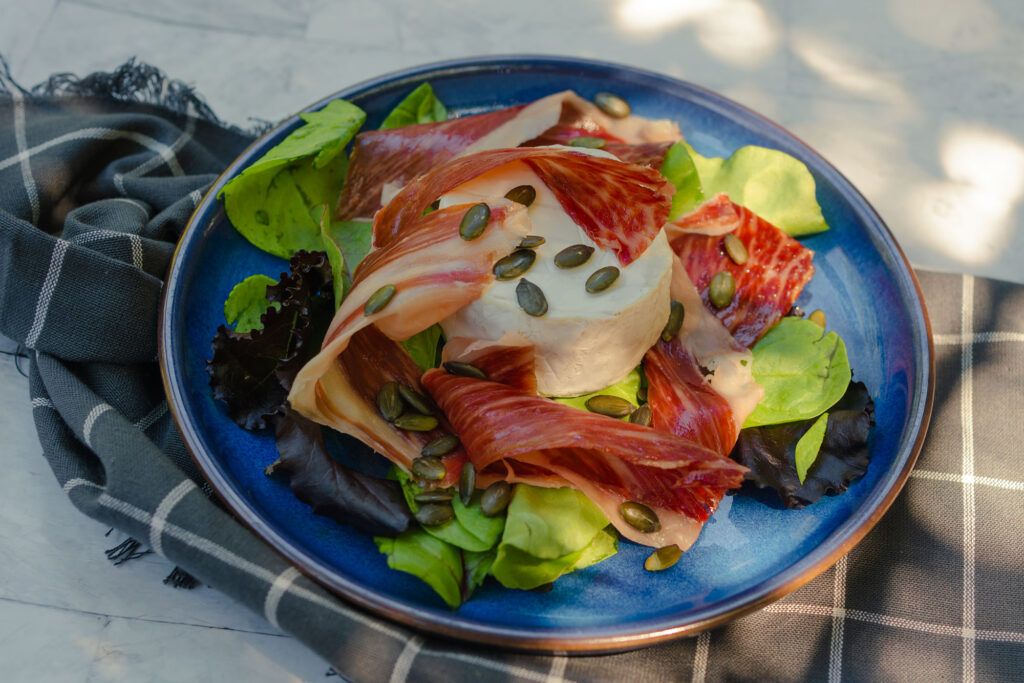 Goat Cheese Salad




Fresh Spinach Salad
In this case, we present you with a proposal that you can not only prepare during the summer season but is also ideal for the whole year. A light and fresh salad with ham, where we add timeless products like radishes, apples, and spinach leaves.
Let's go through the step-by-step of this dish!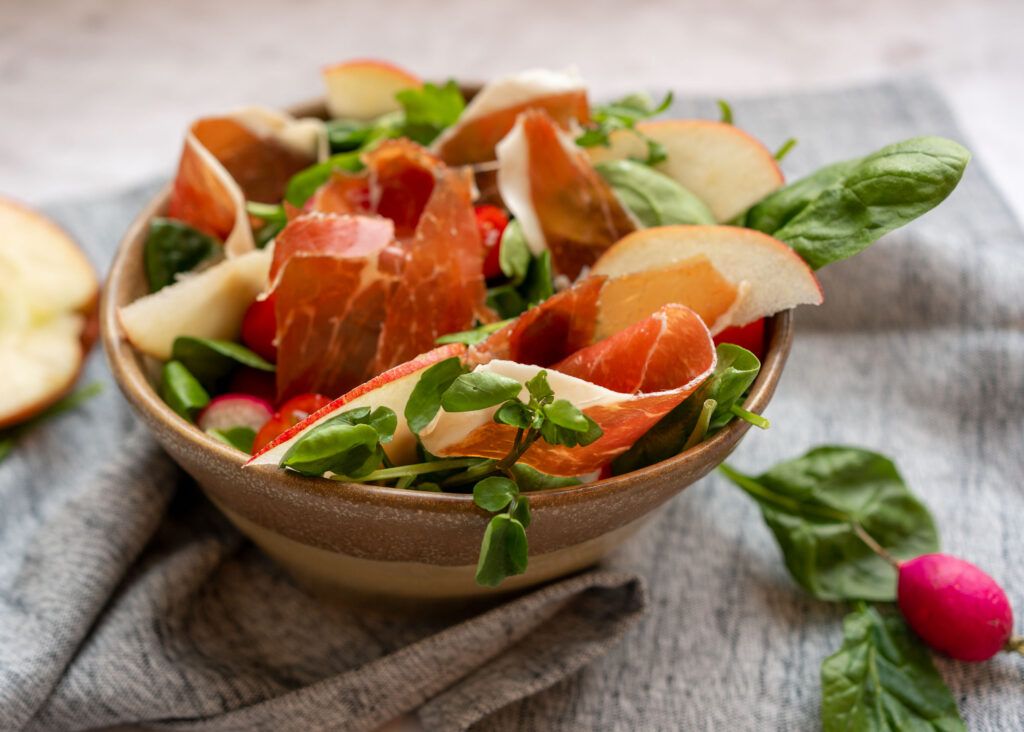 Light and Fresh Salad with Ham
Endive Boats
An idea for a salad that's quite original and in a different format. Endives offer endless possibilities. In fact, if we separate their leaves and arrange them in the shape of "boats," we can add a combination of ingredients on their surface and enjoy eating them to the fullest. In this case, at Enrique Tomás, we go for fresh and delicious ingredients: endives with Iberian ham, pear, cheese, and a mixture of nuts.
A representation of Mediterranean cuisine that's incredibly flavorful while also being healthy thanks to the nutritional properties of each ingredient. The distinctive touch in flavor comes from the shavings of Iberian ham, combined with the sweet character of pear or the nuts.
Discover how to cook this recipe step by step.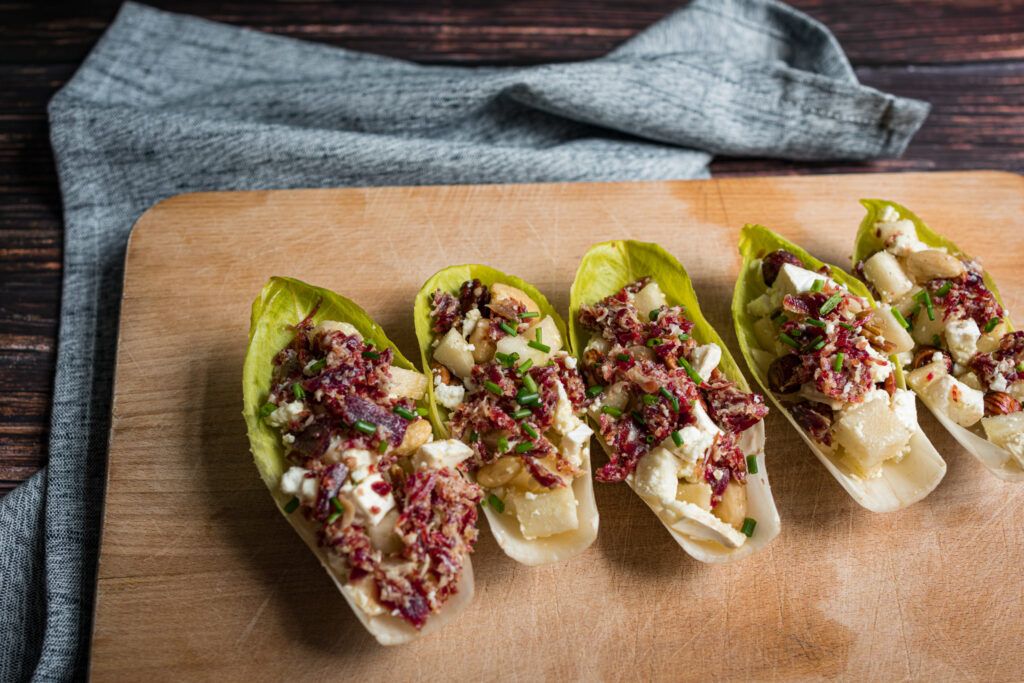 Endive Boats with Ham
Wild Rice Salad
Let your imagination run wild to create salad ideas! A salad with a base of rice also yields great results. In this case, we've chosen to combine wild rice with quinoa, cherry tomatoes, Iberian ham, and apple. A combination of ingredients that provides all the necessary nutrients and is also delicious.



We'll show you all the steps of the recipe on our blog.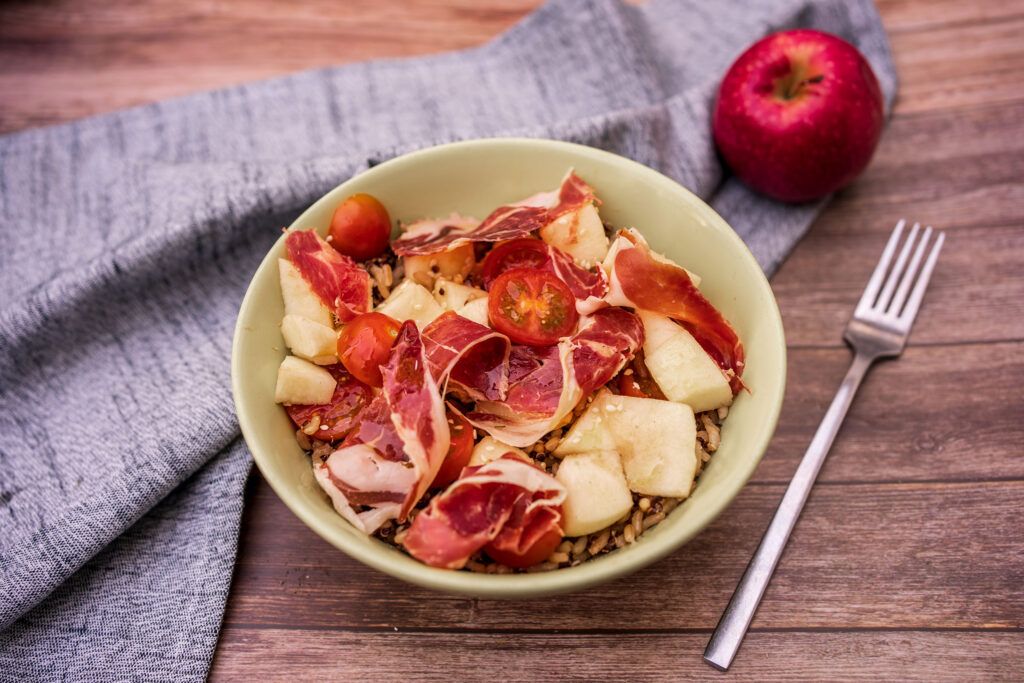 Wild Rice, Quinoa, Apple, and Ham
Bean, Sweet Potato, and Iberian Ham Salad
This bean-based salad is ideal for autumn when sweet potatoes are in full season. Nevertheless, we love it in summer too, as it's colorful and flavorful. You can include it in your weekly menus and take it with you everywhere. Eat healthily by combining excellent quality ingredients like these: beans, sweet potatoes, and Iberian ham.
Go through the step-by-step preparation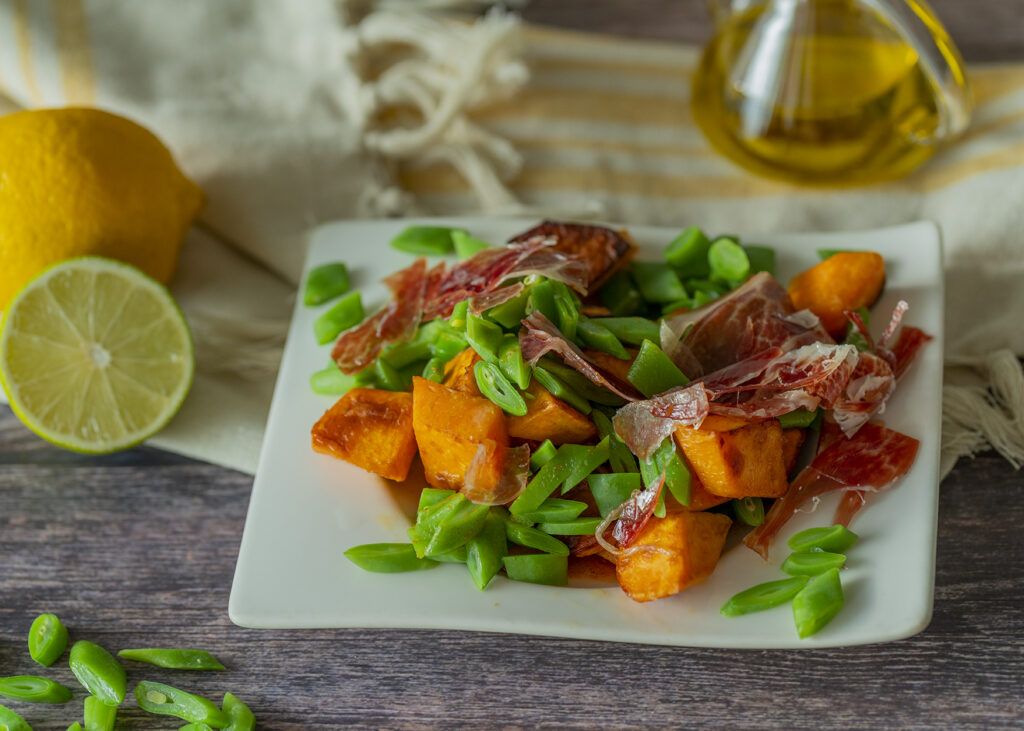 Bean, Sweet Potato, and Iberian Ham Salad
Lentil Salad with Vegetables
The salad based on lentils is also an ideal option. Legumes, in addition to being carbohydrates, also provide us with protein, making them a very complete food. In addition, we choose green bell pepper, red bell pepper, tomato, and carrot to accompany in this recipe. These Mediterranean vegetables are tasty and play a leading role in countless salads, essential for making numerous sautés.
Finally, we add the star ingredient: "Gran Reserva" ham, also known as "serrano ham." This type of ham adds a lot of flavor to the dish, giving it a salty and intense touch.
Learn to cook the recipe step by step.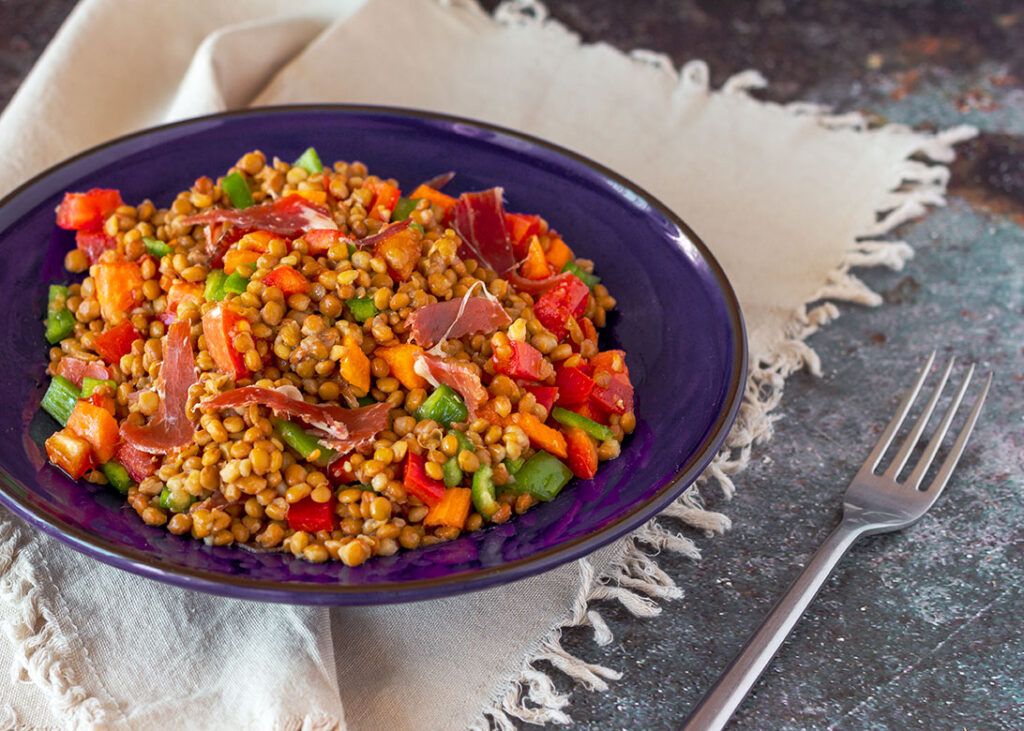 Lentil Salad with Ham
Do you know which one you want to start developing your culinary skills with? From these salad ideas, create your versions and share them with your loved ones. They'll surely enjoy them to the fullest. Discover many more recipes on our blog! Additionally, you can buy ham from our online store in the format you prefer to start cooking.
You might also be interested in:


The Importance of Ham in the Mediterranean Diet