The health benefits of Iberian ham /Jamón Ibérico
Spanish Jamón is a gastronomic pleasure that practically no one can resist eating because its flavour is unique in the world. Many of us must put it out of our sight, if we want to avoid overeating. However, you should not have to worry because this food has more beneficial properties than you think.

At Enrique Tomás, as jamón lovers and experts, we reveal hereafter that it is a healthy food when eating in moderation, as it happens with most of food products.
Jamón Ibérico / Iberian ham, a healthy product.
The responsible private consumption of Jamón Ibérico / Iberian ham provides many benefits thanks to its high protein, vitamin B and mineral content, such as iron and zinc. This food has some of the most positive nutritional properties for our body. We analyze what they are in: "The nutritional properties of Jamón Ibérico / Iberian ham".
We all know that Iberian ham is delicious. Yet, all the health benefits are less known by many people. Some of these benefits are very curious, such as preventing hair loss or promoting healing of wounds and burns thanks to its high zinc content. It also helps improve memory and cognitive help in general, as well as a greater capacity for concentration and comprehension.
Why is Iberian ham beneficial for a heart-healthy diet?
It is highly beneficial for our health because of the Iberian breed properties, from which Iberian ham comes from, that is, it is full of healthy fats, that are infiltrated into the meat, this feature makes it unique in the world. In particular, the fat in Iberian acorn-fed ham (Jamón de Bellota) contains more than 50% oleic acid, which helps lower cholesterol, reducing the risk of heart related diseases such as arteriosclerosis, high blood pressure or embolisms. That is why we will never get tired of saying that acorn-fed ham shares the benefits and properties of other products native to our country, such as olive oil.
In addition, Iberian ham is rich in minerals such as iron, which helps to delay ageing and reduces the chances of developing neurodegenerative conditions such as Parkinson's or Alzheimer's diseases.
Another curious benefit that few people know about is that it increases the sharpness of taste and smell, so there are no more excuses to enjoy a good Jamón/ham.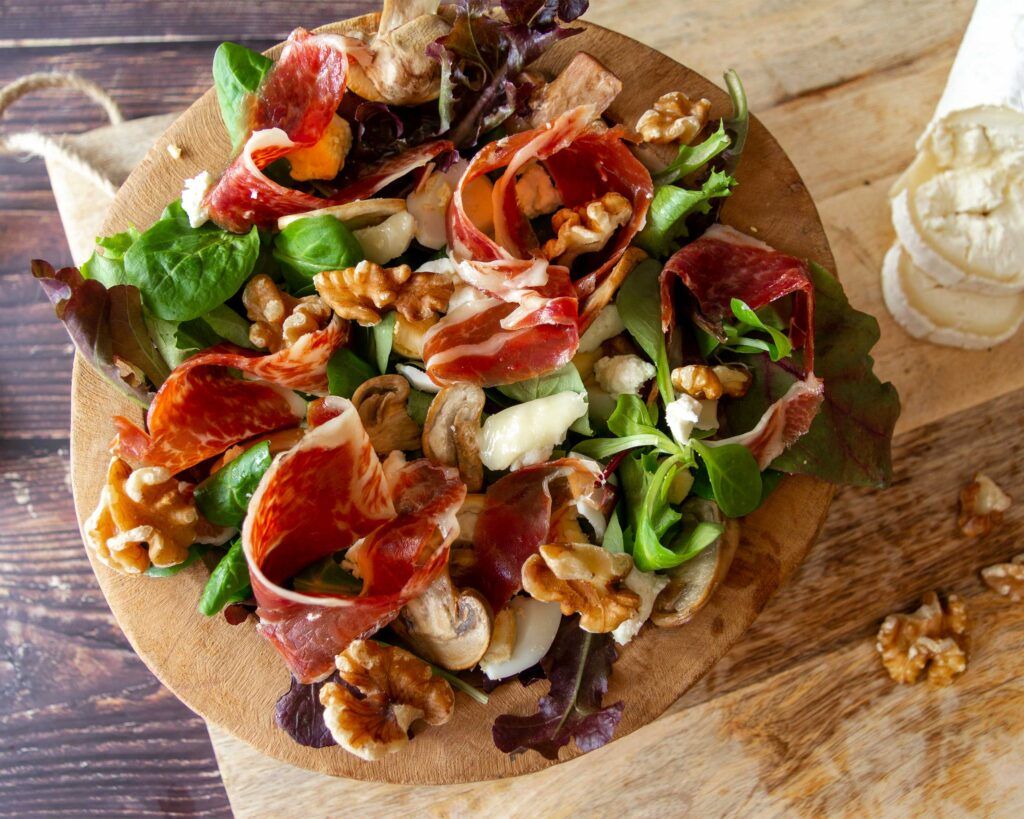 A study reveals that Jamón Ibérico helps against high blood pressure.
In 2015, the Endothelial and Cardiometabolic Medicine Unit of the Ramón y Cajal Hospital in Madrid published a study related to the health benefits of Iberian ham.

This study, led by Dr. José Sabán, associate professor of Medicine at the University of Alcalá de Henares (Madrid), compared the effects of eating Iberian acorn-fed ham in 100 subjects aged between 25 and 55 and showed that eating acorn-fed Iberian ham (Jamón de Bellota Ibérico), also known as Jamón Pata Negra, is good for cardiovascular health.

The conclusions of the study on the health benefits of Iberian ham
According to Dr. Sabán's study, eating 50 grams (1,8 oz) of Jamón a day does not harm cardiovascular health, quite the opposite. Jamón ibérico has proteins, minerals and is rich in antioxidants and anti-inflammatories, therefore, its controlled consumption is beneficial for our body.
Moderate and regular consumption of Jamón, especially if it is acorn-fed (Jamón de Bellota ibérico), has a positive effect on overall cardiovascular risk.
It is important to note that when we talk about the health benefits of Iberian ham, we are referring to the ham itself, not to the external fat of the Jamón/ham. Ham has to have fat because it protects the meat and along with the bone contributes to cure the precious meat. The external fat is not healthy. Look at a slice, the infiltrated fat that makes the marbling of the slice, the one you see like veins within each slice, is the good and healthy one and is responsible for the undeniably delicious flavour and texture. Thus, if not contraindicated by your physician, you can eat it moderately without worrying. Certainly, the fat that is on the edges, although it is very tasty, if you eat too much it can be harmful, so we recommend to cut is off.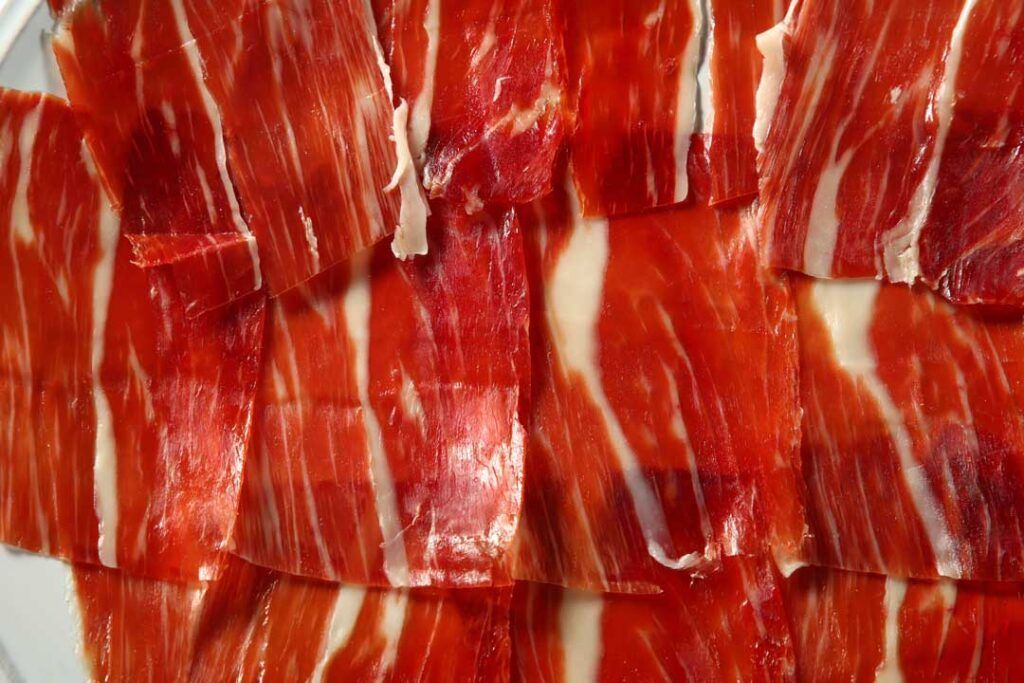 Jamón Ibérico / Iberian ham in our diet
Is Spanish Jamón fattening?
Some of the most common discussions about Jamón/ham is related to including it in a healthy diet, whether ham is fattening or not. Contrary to popular belief, as we have already explained, all fat is not bad for the the health. In fact we all need fat in order to survive, but we need to select the right one and Jamón Iberico's infiltrated fat is one of them. It should be said that Jamón it is not fattening as long as it is eaten in moderation. What is harmful, as with all foods, is overeating. As the saying goes, "Good things, when short, are twice as good". It is absolutely fine if you eat a little bread with Jamón every day, especially if it is in the morning at breakfast time, it will give you the energy you need to start the day.


If you are following a weight loss diet, logically you have to take into account that pork meat has more calories than turkey meat -for example- and, therefore, that pork ham provides more calories than turkey ham. Even so, this does not mean that one is healthier than the other. In terms of nutritional values, such as proteins or minerals, Iberian ham provides much higher and more beneficial levels of each.




Iberian ham as part of a balanced diet
It is important to bear in mind that if you follow any diet with a specific objective in mind, you should consult nutrition professionals so that they can recommend the most suitable foods and the most appropriate combination for you.
Dieting for a specific purpose is not the same as simply wanting to follow a balanced and healthy diet. To achieve this second objective, the key is to prepare recipes where the main base is cereals and vegetables accompanied by a small amount of meat or other animal products.
Eating heart-healthy fats such as olive oil or fat from oily fish, nuts, or products such as acorn-fed Iberian ham (Jamón de Bellota) would also be a valid and appropriate option for maintaining a balanced diet. Finally, it should also be borne in mind that one of the keys to eating healthy is to include fresh, seasonal, and unprocessed products in your diet..
The Mediterranean Diet is one of the most complete and healthy diets, it is a valuable cultural heritage and represents a balanced lifestyle that includes recipes, ways of cooking, local products and other culinary customs that benefit our health.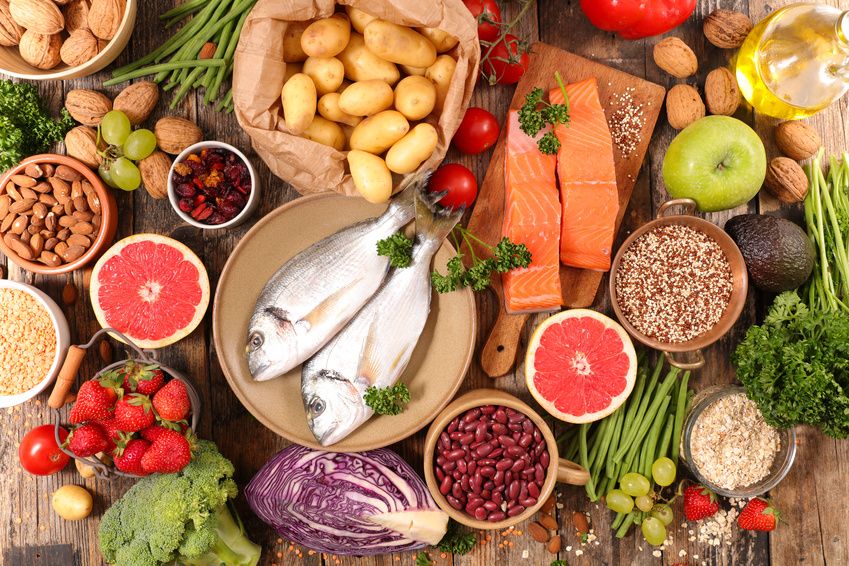 In short, Iberian ham/ Jamón ibérico has many health benefits: it improves blood pressure, provides us with proteins and minerals and is not fattening if you don't overeat. You can include it in recipes as the ideal condiment for salads, creams and many other dishes with vegetables and fruits. Also, eat it on its own as an aperitif or as part of a shared lunch or dinner, not only your health will benefit from it but also your mind and all senses because it is a gastronomic jewl. Enjoy it without worrying about your health, choose to buy a quality Jamón de Bellota 100% Iberico such as Enrique Tomás' and treat yourself whenever you want!