The nutritional properties of Iberian ham
We never tire of explaining why Iberian ham is good for our health, and in this case, at Enrique Tomás, we're going to delve into the nutritional properties of Iberian ham.
A native product of the Iberian Peninsula, very good and healthy!
Iberian ham is a part of our Mediterranean diet and is one of the most typical and traditional foods in Spanish cuisine. It's used to create endless tasty, delicious, and, of course, very healthy recipes.
Nutritional Value of Iberian Ham
Iberian ham is a very nutritious product, rich in proteins and high-quality essential amino acids, making it recommended for daily consumption, albeit in moderate amounts. As you know, overindulgence in anything, and excess consumption of any product, is not good.
It's also rich in calcium, which helps keep bones healthy and prevents problems like osteoporosis. At the same time, its iron content prevents the occurrence of anemia.
In addition to being an irresistibly flavored food, ham contains vitamins like E, B1, B6, and B12, which benefit the nervous system and brain function. It's also antioxidant-rich and packed with minerals such as iron, phosphorus, potassium, and zinc.
In detail, for every 100 grams of Iberian ham, your body receives:
| | | | | | | | |
| --- | --- | --- | --- | --- | --- | --- | --- |
| Kcal | Proteins | Fats | Sodium | Potassium | Phosphorus | Magnesium | Calcium |
| 375 | 43.2 | 22.4 | 1100 mg | 153 mg | 157.5 mg | 1.57 | 27.08 |
Nutritional Value per 100g of Iberian Ham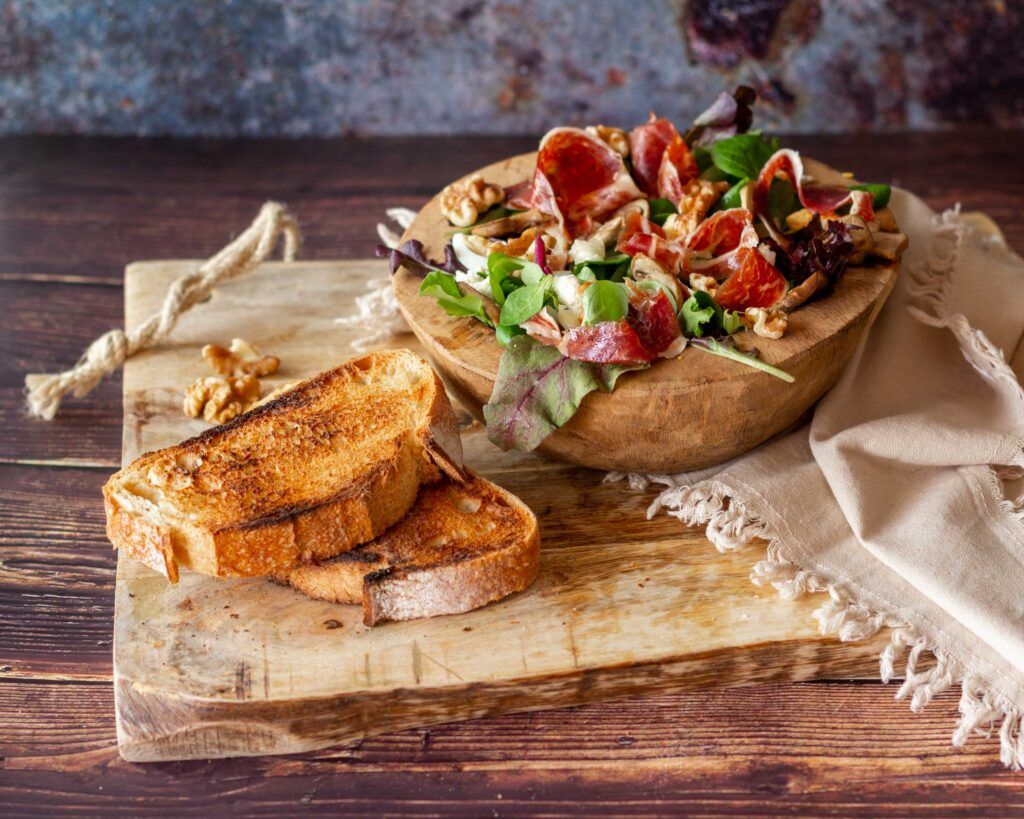 Mushroom, Goat Cheese, and Iberian Ham Salad
Iberian Acorn-Fed Ham: The Most Beneficial in Nutritional Properties
In the world of ham and according to the Spanish Nutrition Foundation, there are different types of hams, and this also influences their nutritional qualities. Among the varieties of Iberian pig, we find acorn-fed ham - the most prized variety, field-reared ham, and grain-fed ham. On the other hand, from the white pig, we get the one known simply as serrano ham.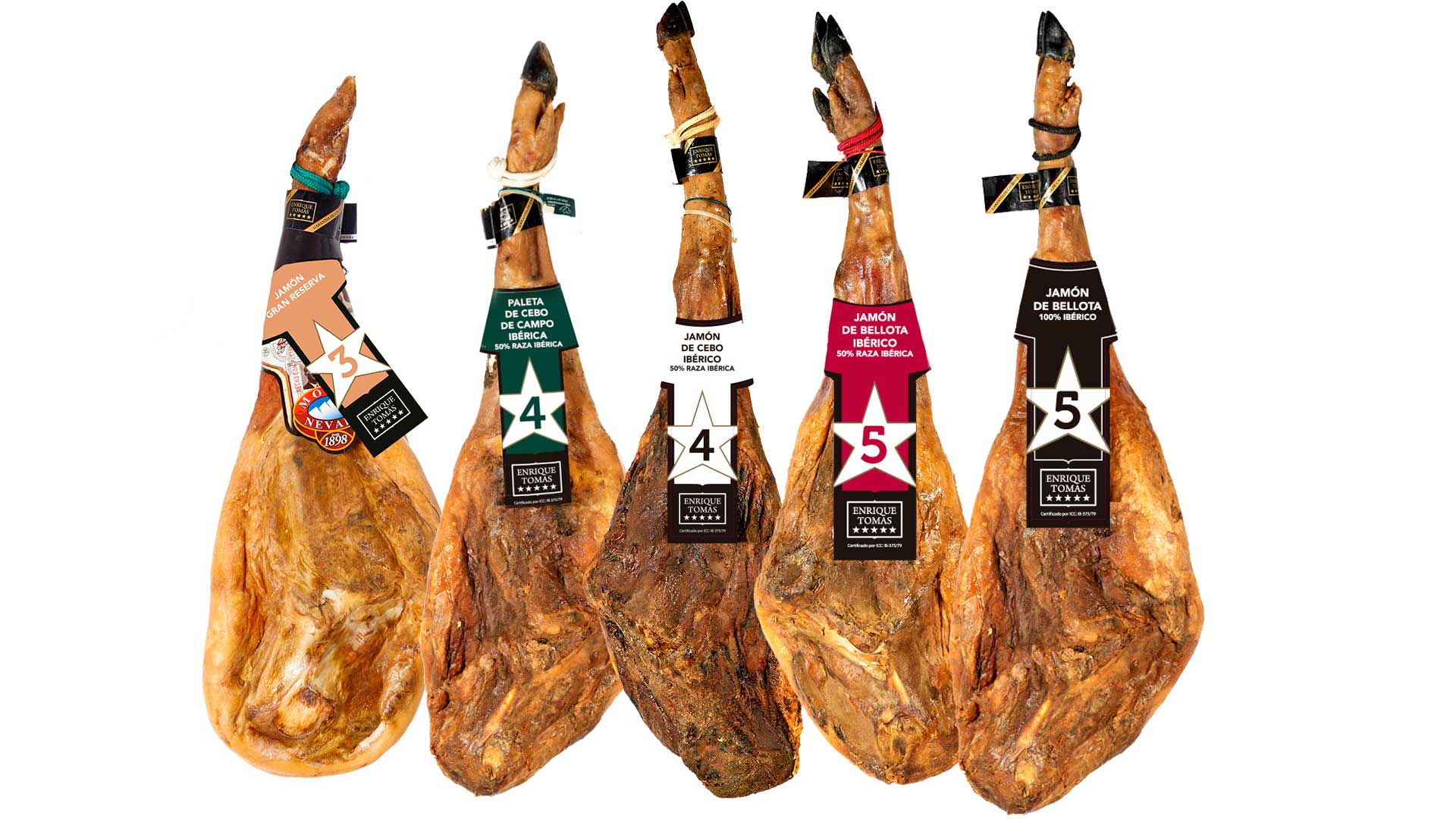 You already know that the product is ham, but what does "de bellota" Iberian mean? How does it influence its nutritional properties? Well, we start by explaining its origin, which is related to the breed of the animal: the Iberian pig.
For a ham to be considered Iberian, it must come from an Iberian breed pig with at least 50% purity. This means there are 50% Iberian hams, 75% and 100% Iberian hams. The purity of the breed is determined by the genetics of the pig; the mother must always be 100% Iberian, while the father's purity percentage can vary or even be a non-Iberian pig.
And for the ham to be considered "de Bellota," the Iberian pig it comes from must enjoy what is known as the Montanera. This is a period of freedom in the pasturelands where Iberian pigs reach their ideal weight by eating acorns, grasses, and wild herbs, while also exercising and moving around the vast land expanses. Only in this way can they be considered authentic Iberian acorn-fed hams.
Nutritional Properties of Iberian Acorn-Fed Ham
Now that we've clarified the terms, let's talk about how good it is, as acorn-fed ham is considered an ideal product to include in a healthy and balanced diet. Unlike other types of ham that can have a high salt content, acorn-fed ham stands out for its heart-healthy contributions.
Oleic Acid
Acorn-fed ham contains large amounts of oleic acid, the same type of fat found in olive oil. This type of fat has a positive effect on our cholesterol levels, increasing the good cholesterol and reducing the bad cholesterol.
Unsaturated Fatty Acids
The fat present in acorn-fed Iberian cured products is the most "heart-healthy" fat among all animal fats.
Vitamins and Minerals
Among the properties of acorn-fed Iberian ham, the presence of B-group vitamins stands out, which are beneficial for the proper functioning of the nervous system and the brain. It also contains vitamin E, known for its antioxidant properties, and minerals such as calcium, iron, zinc, magnesium, phosphorus, and selenium.
Calories
A 100-gram serving of acorn-fed ham provides approximately 250 kcal, so consuming it moderately can align with weight loss or low-calorie diets.
Proteins
The same 100-gram serving of this incredible Iberian product provides 43 grams of protein, making acorn-fed ham an ideal substitute for red meats and a perfect complement to include in recipes with plenty of vegetables.
Digestibility
During the curing process, a chemical reaction called proteolysis occurs. This process increases the digestibility index of acorn-fed ham to 85% to 100%, meaning it's easily digestible, allowing for maximum nutrient absorption.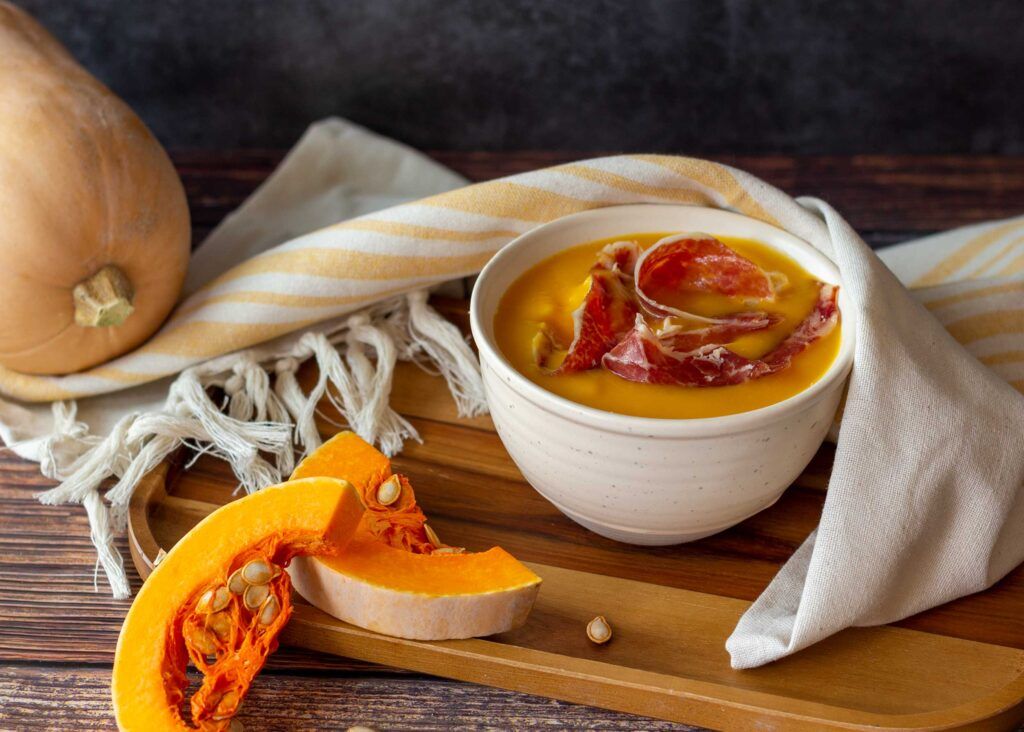 Pumpkin Cream
As you can see, there are many nutritional properties of acorn-fed Iberian ham that make this product both delicious and beneficial. At Enrique Tomás, we consider our 100% Iberian acorn-fed ham to be a 5-star premium ham, the crown jewel in both flavor and nutritional value. We're leaving you with a summary video that explains more about the product and its healthful and nutritious qualities!
Comparison of Nutritional Properties of Iberian Ham with Serrano Ham
The first thing to consider is that serrano ham, equivalent to our Gran Reserva, has fewer calories than Iberian ham, but it also has fewer high-quality proteins.
If you have hypertension, the best choice is Iberian ham, meaning opting for the highest quality, produced from the meat of authentic pigs from our peninsula, as it has less sodium and will be more favorable for you. Additionally, it's worth highlighting that Iberian ham has more calcium (27.08 mg of calcium per 100 grams compared to 12.7 mg for serrano ham), more B-group vitamins, and more folic acid. With all these factors, it's much better, and you'll also enjoy its flavor more.
Everything is in favor!
| | | | | | | | | |
| --- | --- | --- | --- | --- | --- | --- | --- | --- |
| 100g | Kcal | Proteins | Fats | Sodium | Potassium | Phosphorus | Magnesium | Calcium |
| Serrano Ham | 241 | 31 g | 13 g | 2300 mg | 160 mg | 180 mg | 1.71 | 12.7 |
| Iberian Ham | 375 | 43.2 g | 22.4 g | 1100 mg | 153 mg | 157.5 mg | 1.57 | 27.08 |

Nutritional Value per 100g of Iberian Ham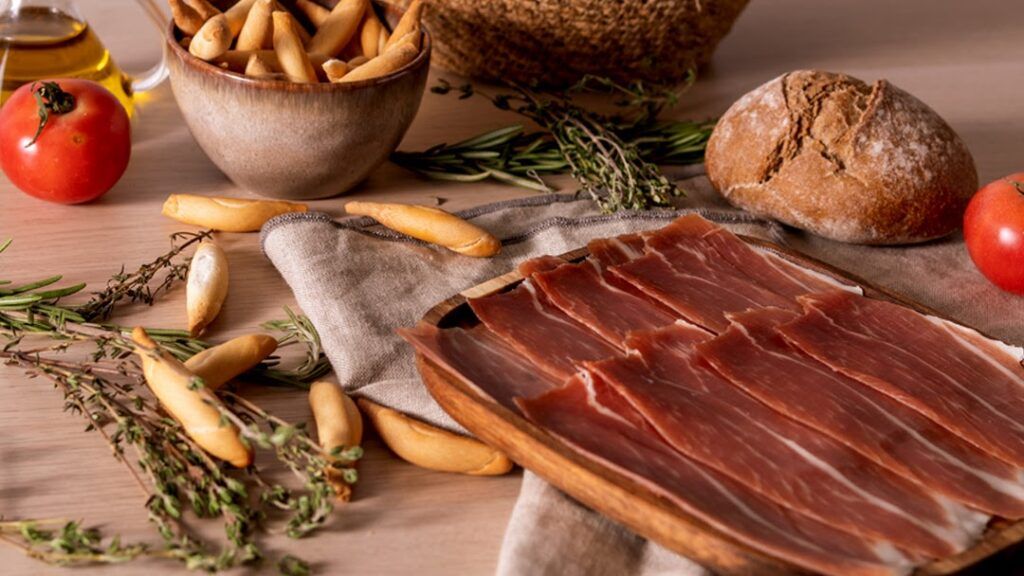 Gran Reserva Serrano Ham



Iberian Acorn-Fed Ham
Learn more about the health benefits of Iberian ham at Enrique Tomás. After so many years of marketing and enjoying it like no one else, we know every single aspect related to the nutritional value of this delicacy, and we don't want you to have any doubts.
Considering the nutritional properties of Iberian ham, choose the one that's most suitable for you, pick the format, and head to our online shop to get it.
Easy, fast, and secure! You'll have it at home in no time, ready to enjoy and start including it in your healthy recipes.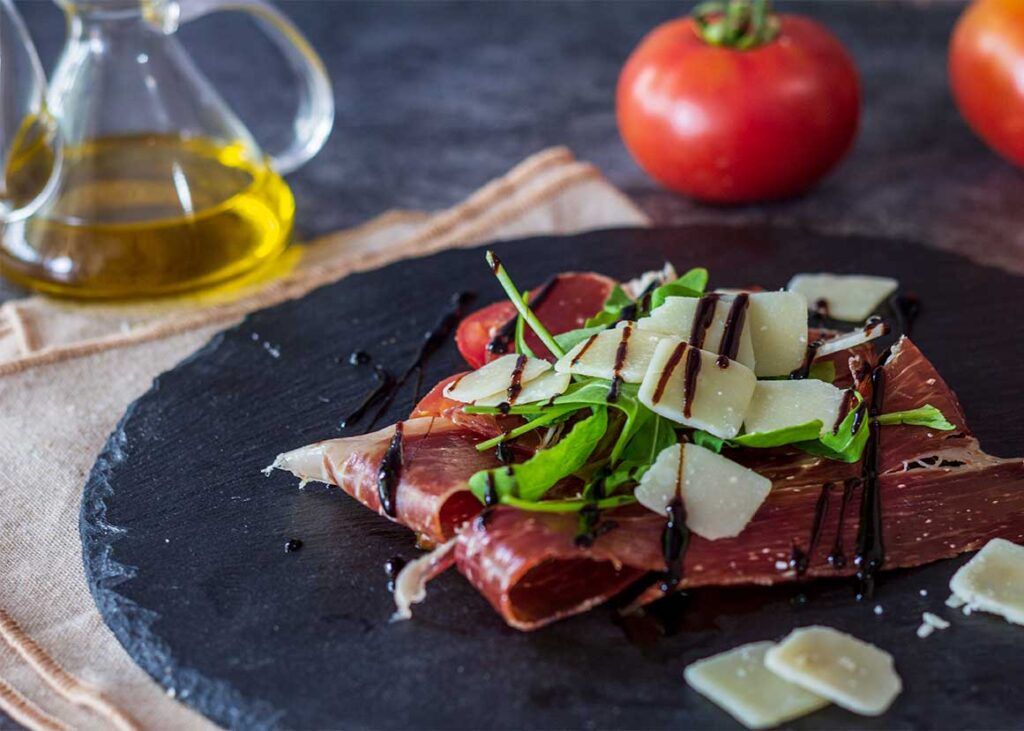 Iberian Acorn-Fed Ham Carpaccio