Healthy recipes for the summer
Welcome once again to the Enrique Tomás kitchen!
As a new season approaches, we always like to give you seasonal recipes that are easy and super healthy. Our dishes contain practically all the necessary nutrients to maintain a healthy and balanced diet, without sacrificing pleasures like enjoying ham. At Enrique Tomás, we want you to enjoy everything that's good and healthy.
If you have questions about the health benefits of ham, we recommend our blog section: "Enrique Tomás Takes Care of You". Now, let's begin with our list of healthy summer recipes.
Melon and Ham Skewers
One of our favorite and simple recipes is melon and ham skewers. If there's a perfect ham dish for summer, it's melon and ham. A perfect harmony thanks to the combination of the sweetness of melon in contrast to the intense and salty flavor of serrano ham. But, do you know the trick to preparing perfect serrano ham and melon skewers?
Cooking this recipe is really simple; anyone can do it, even in record time! Additionally, it's a refreshing appetizer that fits perfectly into a healthy and light Mediterranean diet.
Check out the full recipe: "Melon and Ham Skewers."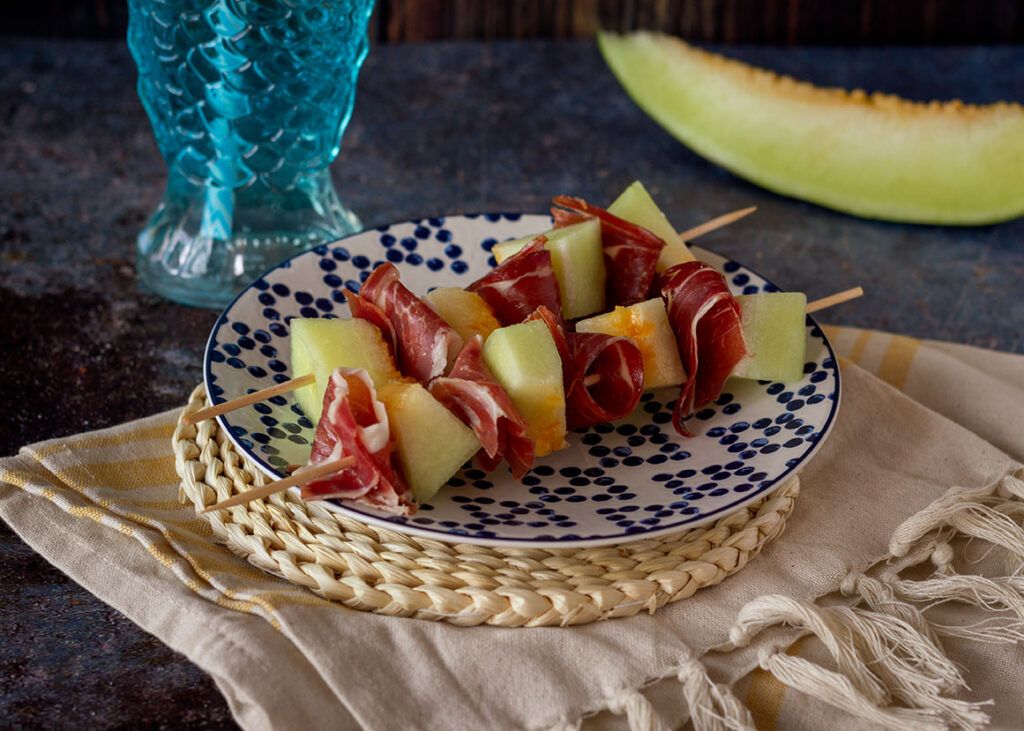 Melon and Ham Skewers
Light Salad with Radishes, Apple, Ham, and Cherry Tomatoes
Although apples are a fruit we can find throughout the year, combined with these magnificent ingredients, they become one of the most appealing healthy summer recipes.
This recipe combines vegetables, greens, fruits, and cured meat, making it very healthy as it provides us with a set of essential nutrients for our body, such as vitamins, minerals, proteins, and healthy fats.
Here's the step-by-step recipe – you'll see how easy it is!

Light Salad with Radishes, Apple, Ham, and Cherry Tomatoes



Salmorejo with Ham
Iberian ham salmorejo is one of the most typical dishes of summer. It's refreshing, cool, and light, and it provides us with many nutrients thanks to its high content of vegetables and greens, used as the base for preparing this dish.
It's of Andalusian origin, specifically from the Cordovan lands, and it's usually served on its own or accompanied by an ingredient that complements it and gives it uniqueness. In this recipe, we choose Iberian Ham, which enhances the authenticity of the dish and adds more intensity to the flavor.
Discover Enrique Tomás' tricks for preparing Salmorejo.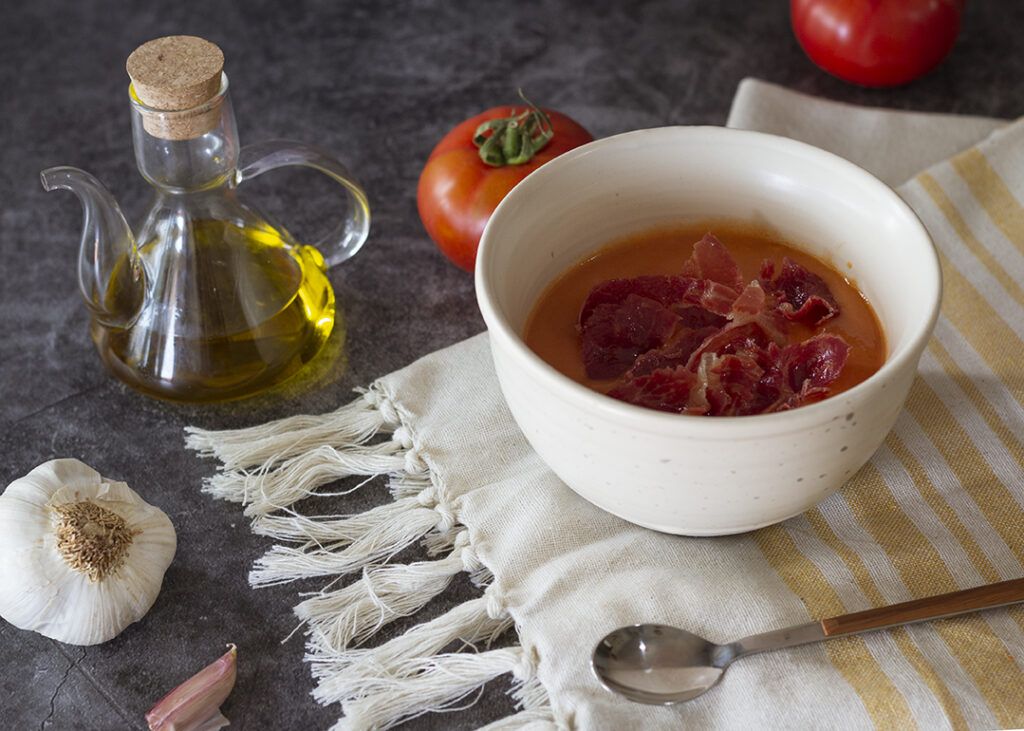 Salmorejo with Ham
Endive Boats
If we separate the leaves of endives and arrange them in the shape of "boats," we can introduce a combination of ingredients on their surface and enjoy them 100%. Need some ideas? Ideal ingredients include fresh and light ones like fruits and vegetables, mixed with animal-origin foods like Iberian ham or cheese.
In this case, we've made endive boats with Iberian ham, pear, cheese, and a mix of nuts. The differential flavor is provided by the shavings of Iberian ham, which wonderfully contrasts with the sweet character of the pear and the aroma of the cheese.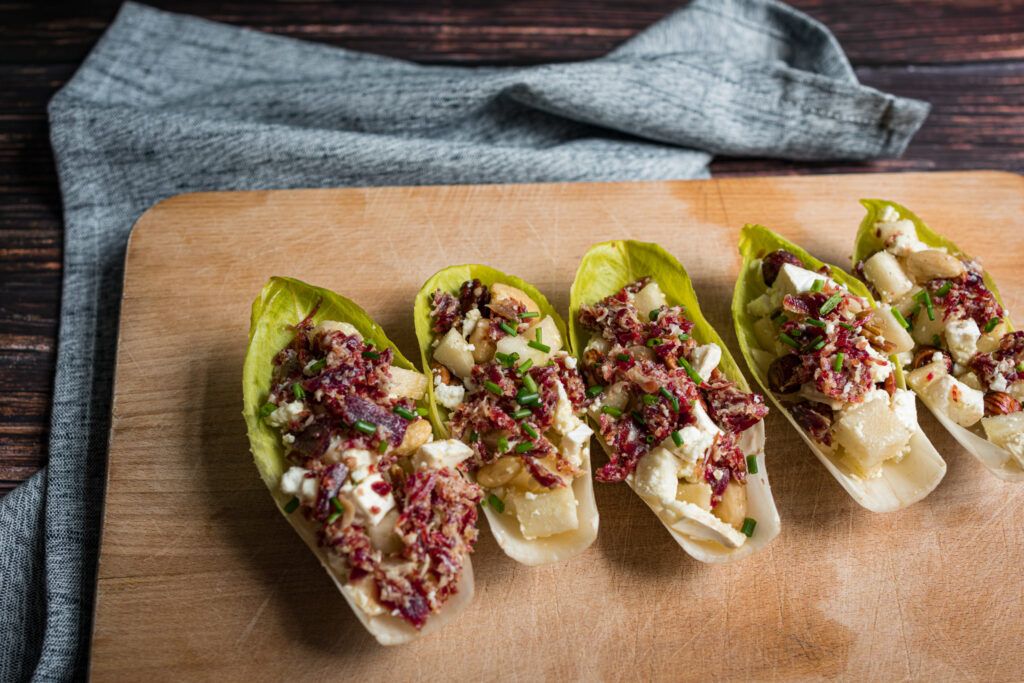 Endive Boats with Ham

Summer Salad with Figs, Parmesan, and Iberian Ham
Another option for a healthy summer salad is this one. Based on arugula leaves, figs, parmesan cheese, and sliced Iberian ham with an olive oil and almond vinaigrette. All the ingredients are typical of the Mediterranean diet, and their combination results in a dish that fits perfectly into a healthy, light, and refreshing meal or dinner.
We'll walk you through the step-by-step process to prepare it!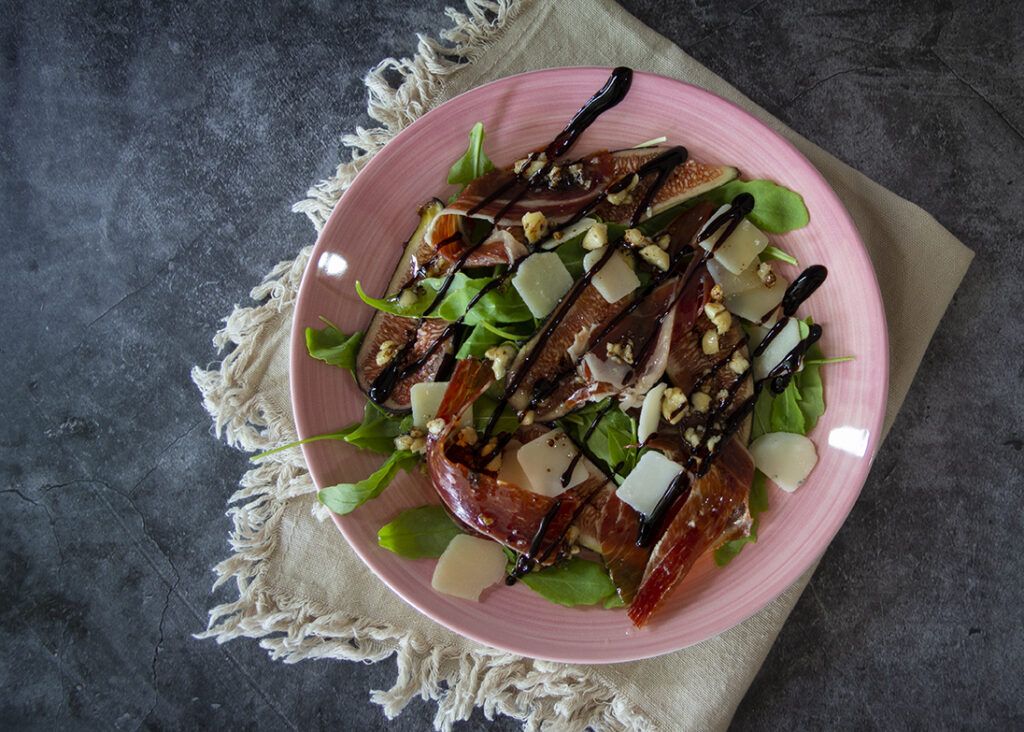 Ham, Fig, and Parmesan Salad

"Healthy" Spring Rolls
Although the name pays homage to spring, this dish is also ideal for summer. The distinctive feature of our recipes is always ham, but in this case, it's not just that – our proposal for healthy spring rolls transforms the dish from top to bottom.
We replace the wrap with blanched cauliflower leaves, and inside the roll, we add a filling based on basic vegetables like carrots, onions, or leeks, accompanied by a handful of mushrooms and, of course, pieces of Iberian ham. A simple, healthy, delicious, and above all, original preparation!


Follow our step-by-step guide.
Spring Rolls with Ham

Melon Soup with Ham
One of the most appealing and classic summer recipes is cold melon soup with ham. You'll have it ready in just 10 minutes. It's a light, refreshing option with an irresistible touch of sweetness. It's a very typical dish in our summer Mediterranean diet, and you'll find it in many daily menus at restaurants and bars in our country.
At Enrique Tomás, we'll show you how to prepare this recipe at home easily and quickly. It's an ideal first course for lunch or even dinner.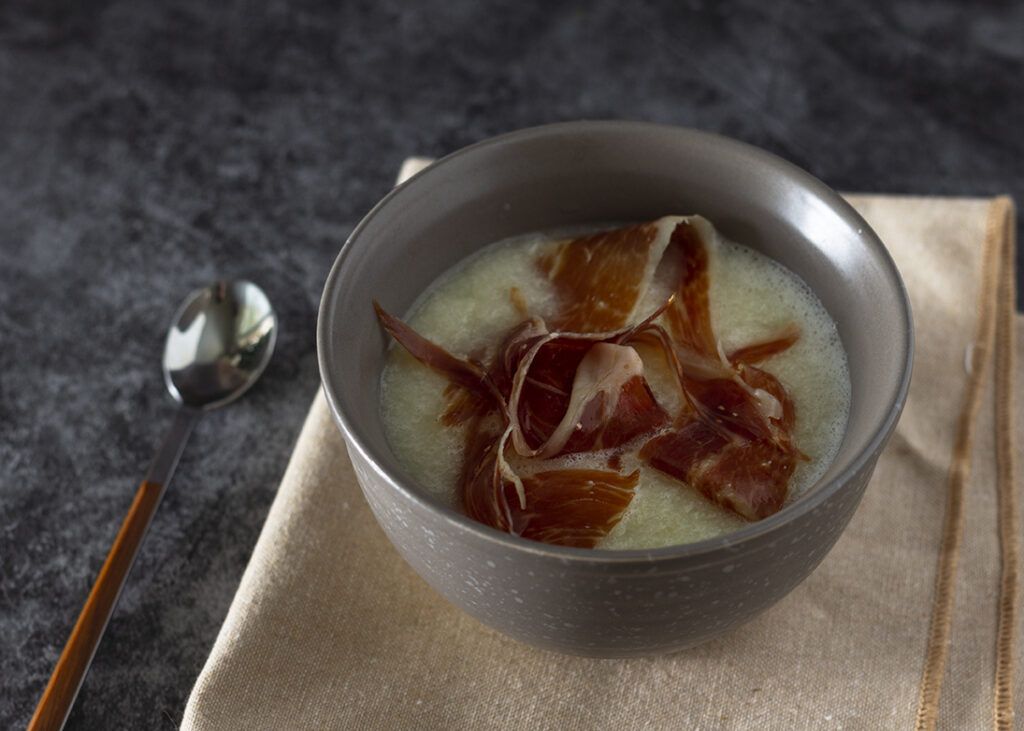 Cold Melon Soup with Ham