Recipes with seasonal fruits
We love seasonal fruit recipes, especially in summer, when we have numerous delicious fruit options to combine with our favorite ingredients.
Fruits are rich in vitamins and minerals, and many of them have a high water content, making them great for staying hydrated during the hottest times of the year. They also add a lighter and refreshing character to recipes. While we often include them in salads or soups, there are recipes where they take center stage, like the classic "melon with ham."
In the Mediterranean diet, fruit is one of the most important food groups. In fact, it's recommended to eat about 5 servings of fruits or vegetables a day for a healthy diet.
Here are some ideas for seasonal fruit recipes.
Start including them in your weekly menu!
Summer Salad with Figs, Parmesan, and Iberian Ham
In summer, salads are one of the quintessential dishes. One of their main advantages is their versatility when it comes to choosing ingredients to combine in the best way. Moreover, they're usually a simple and quick option to prepare, beneficial for health, and rich in nutrients. Mixing vegetables, greens, and fruits is one of the most common ways to enjoy a good salad.
We propose a summer salad based on arugula leaves, figs, parmesan cheese, and sliced Iberian ham with an olive oil and almond vinaigrette. All the ingredients are typical of the Mediterranean diet, and their combination creates a dish that perfectly fits a healthy, light, and refreshing lunch or dinner.
Learn how to prepare it step by step.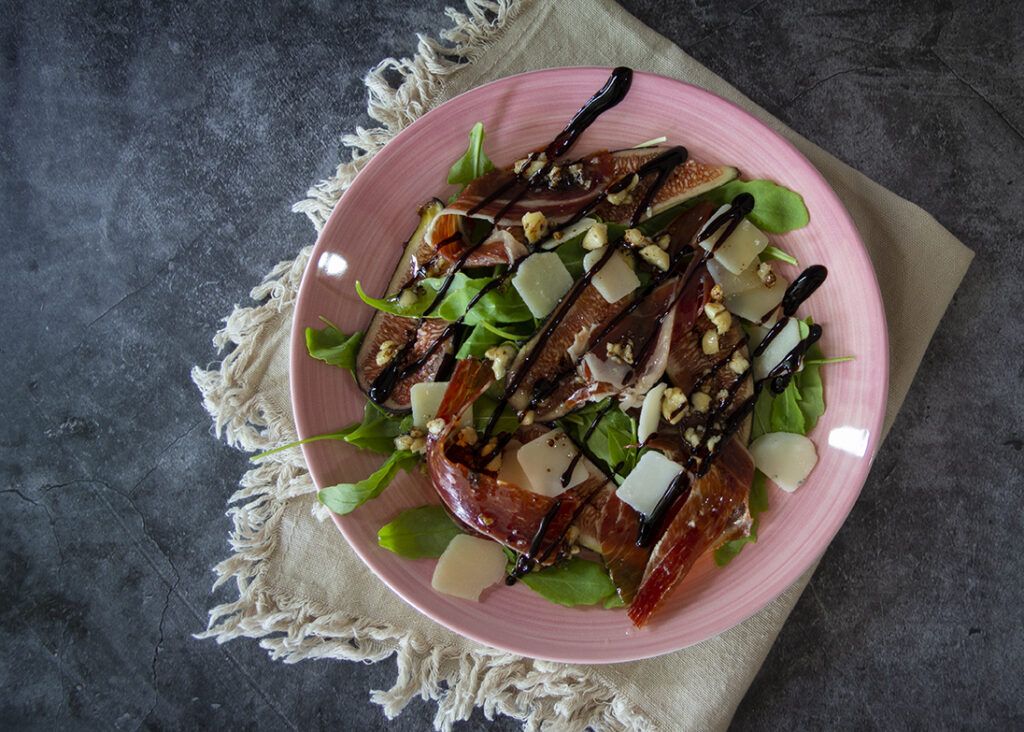 Spanish Iberian Ham and Avocado Uramaki
In this case, we choose avocado as the fruit and include it in a truly original recipe. Iberian ham and avocado uramaki is a perfect choice to surprise your family and friends with an original and simple recipe that combines Japanese and Spanish cuisine.
Although it might seem complicated, this recipe is very simple: you just need to add a thin slice of Iberian ham on top of the rice roll (seasoned with vinegar, salt, and sugar) before cutting it into pieces.
Inside the uramaki, you can add the ingredients you like the most. In this case, we've chosen avocado for its exotic and fleshy texture with an excellent taste. Additionally, its not overly sweet or sour flavor makes it a great match for many ingredients.
Learn how to prepare them in the following link.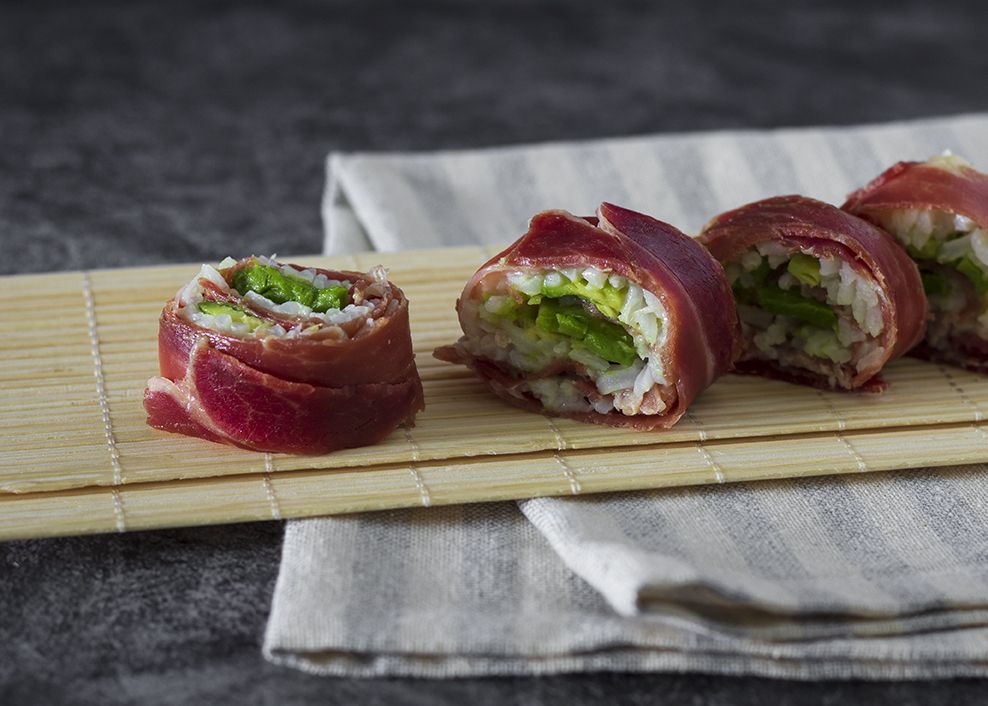 Ham-Wrapped Melon Skewers
If there's a perfect ham dish for summer, it's the melon with ham. A perfect harmony between the sweetness of the melon and the intense, salty flavor of serrano ham. Cooking this recipe is really simple, anyone can do it, even in record time!
Moreover, it's a truly refreshing appetizer that fits perfectly into a healthy and light Mediterranean diet.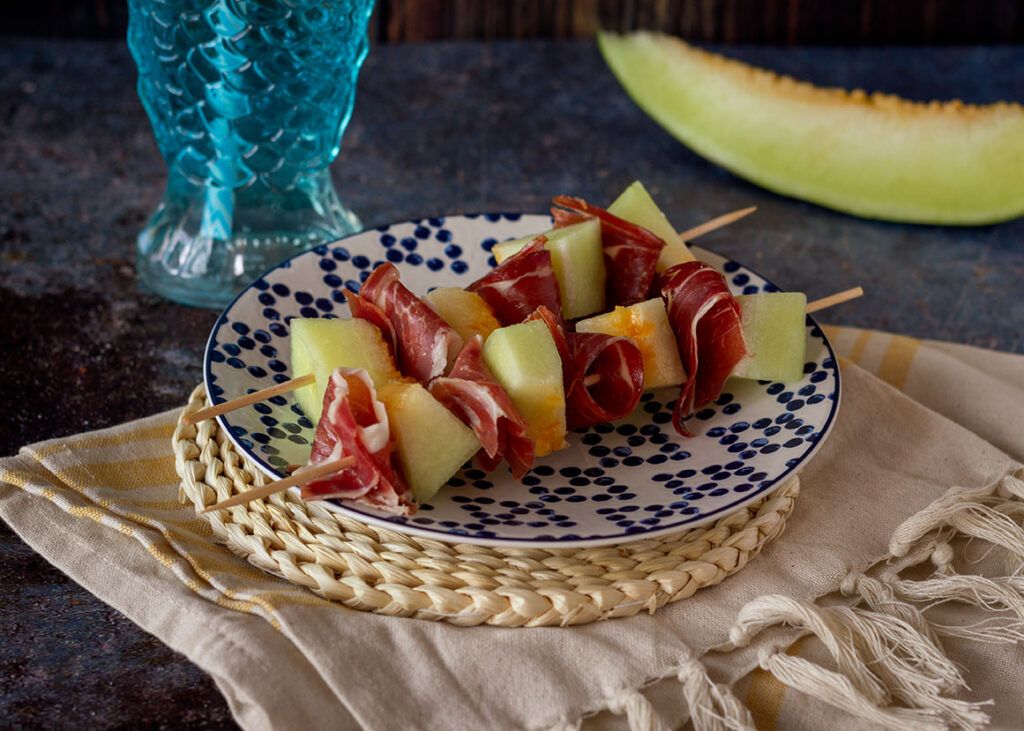 Jamon, Quince, and Cheese Roll
This roll proposal is an excellent appetizer for shared meals or dinners. It's a great choice as part of an elegant "tapas" spread for any celebration. Plus, it only takes 15 minutes to prepare and is very straightforward.
Learn step by step how to make it.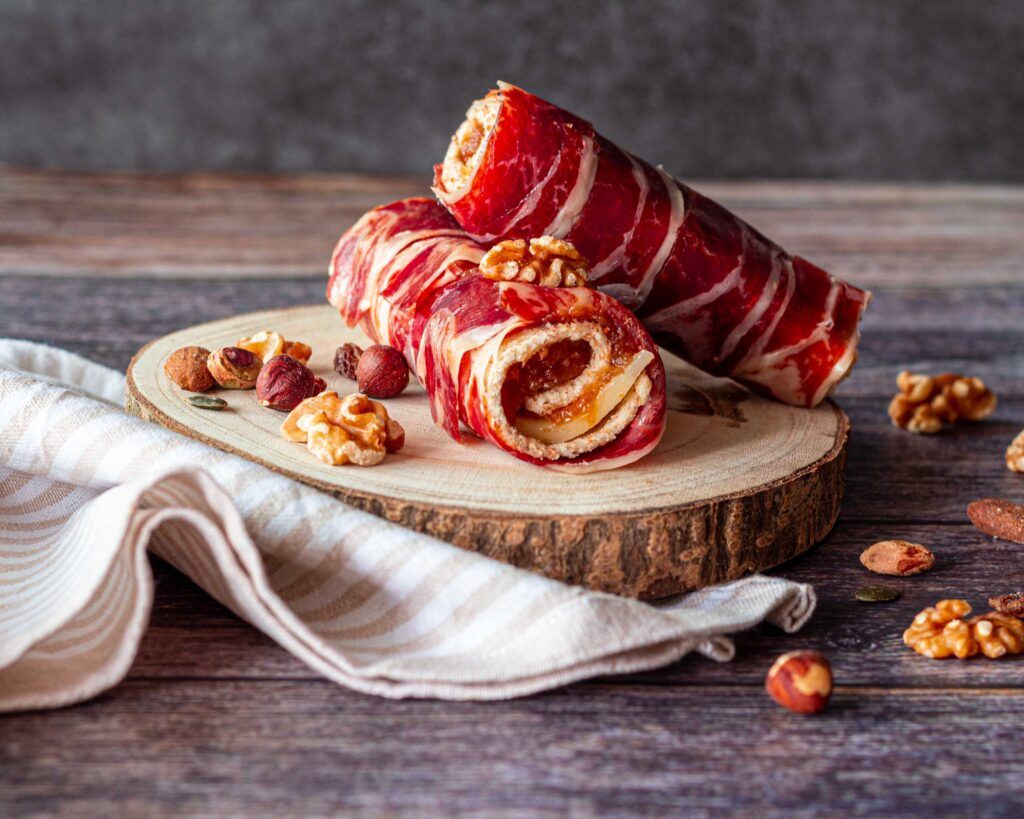 Apple, Rice, Quinoa, and Ham Salad
This apple, rice, quinoa, and Iberian ham salad meets the requirements of a healthy dish, providing essential nutrients for our body. Moreover, the proper combination of ingredients results in an extraordinary flavor.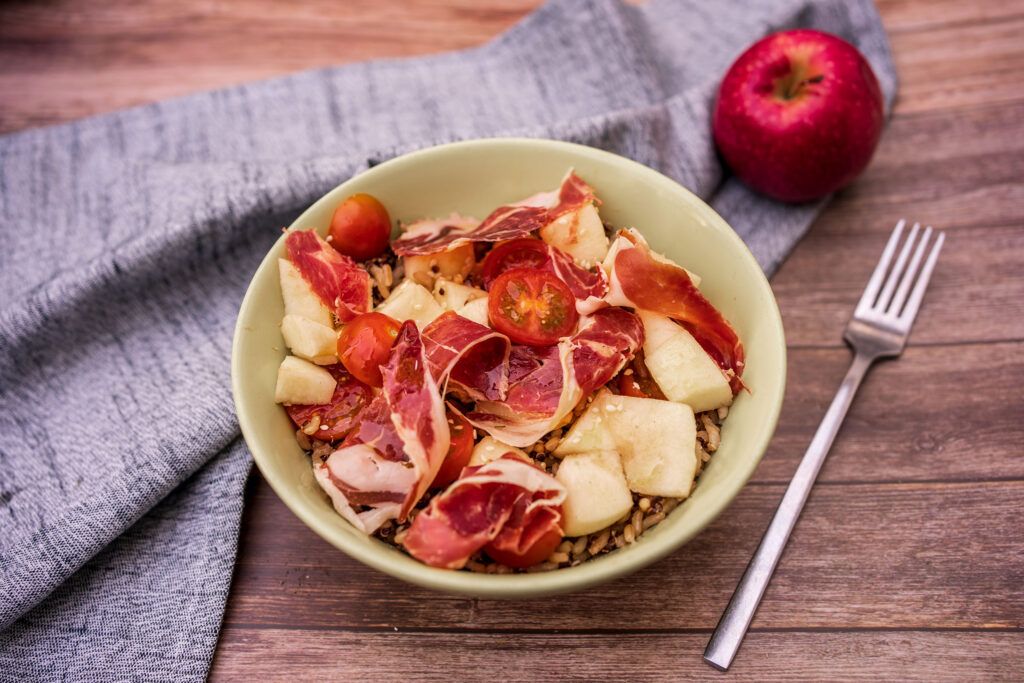 Iberian Ham and Seasonal Fruit Platter
This recipe idea is perfect for "nibbles" dinners, those shared meals with friends or family where the table is filled with delicious products to enjoy. One of the most typical tapas in our cuisine is a variety of Iberian cured meats, Iberian ham, and cheese. Of course, they're accompanied by complementary elements like tomato and olive oil bread and seasonal fruits. In this case, we've chosen the most typical summer fruits: melon, apricots, and avocado.
Learn the key points for preparing an Iberian platter and how to choose the products you'll include.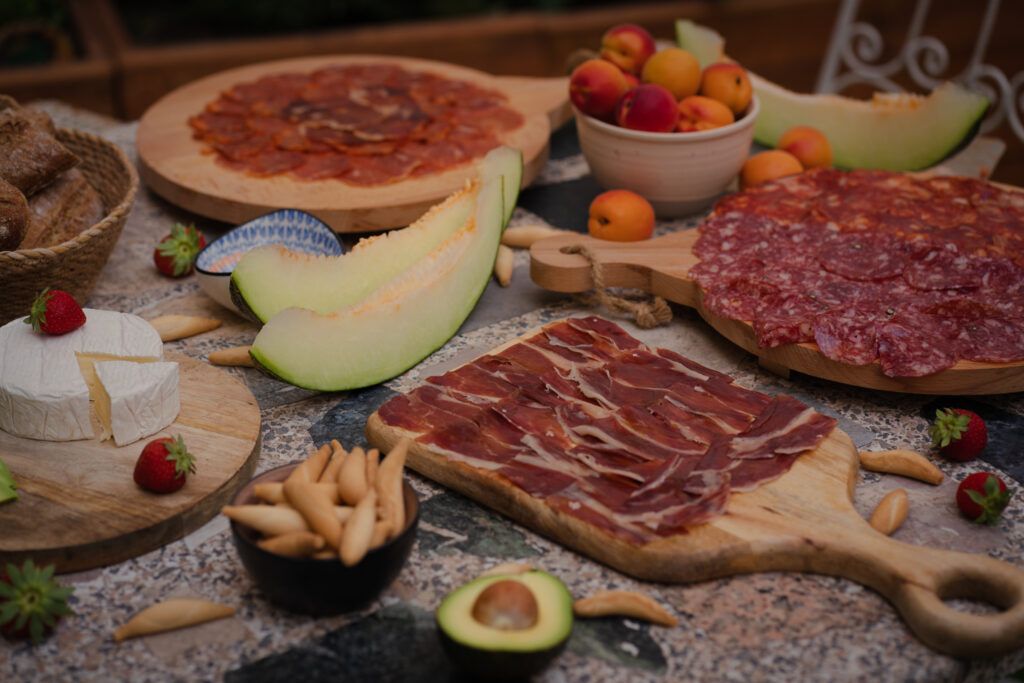 Creams and Soups
It's also quite common to include seasonal fruits in creams or soups. Their texture makes them easy to blend, and their flavor sweetens any dish, making it more unique and authentic. In this case, we recommend the melon and ham gazpacho. If you're a fan of the classic melon with ham, this dish will captivate you!
A gazpacho with quick and simple preparation. You just need a blender, a melon, cucumber, red onion, and a slice of Iberian Ham. You'll have it ready in 10 minutes! Choose the type of ham you prefer and start cutting the fruits and vegetables.