How much does a professional ham carver charge [Price List]
Is there life - and especially, ham cutters - after Florencio Sanchidrián? Yes! What there won't be is money in your pocket, as the Castilian-Leonese charges around 4,000 euros per piece.

The truth is that this profession requires a lot of patience and a love for ham. There's not only a lot of science behind the cutting of this "precious delicacy both inside and outside our pantries," as Florencio calls it. In fact, the cutter's experience, their skill in handling the product, and many other factors determine the salary of a ham cutter.

Here at Enrique Tomás, before detailing how much a ham cutter charges, we start by discovering what they do and what the differences are with a master ham expert. Anyway, we'll let you know that you won't have to spend 4,000€ to have your ham sliced at home. We do it just as well and for much less.


What determines the price of a professional ham cutter
Ham is not only a delicious food; it is an A-R-T. So, we are going to use an artistic analogy for these two important professions; the master ham expert is the restorer, the artist who takes care of the ham from the selection of the pieces, through the salting phases to the cellar.

The ham cutter, on the other hand, is the sculptor, the expert in carving this exquisite sculpture. In fact, if you want to truly appreciate the authentic taste of good ham, then you have to leave it in the hands of a professional cutter because they will ensure that you can enjoy your ham to the fullest. Why? Because a perfect cut can enhance its flavor. That said, let's explain how much a ham cutter charges. Let's get to it!

All those instructions that may seem like a complicated contraption to us, such as properly securing the leg, making a transversal cut, removing the layer of rancidness and fat, separating the meat from the bone with a boning knife... are the daily bread - or rather, ham, in this case - of a professional cutter. It may seem obvious, but the more experience a cutter has and the more they internalize the cutting process, the higher the salary of a professional cutter will be.
However, beware! Behind the price of a cutter, there is much more, as the knowledge of this professional is not limited to following key movements while cutting the ham. A professional cutter differs from an amateur because they also have to know the types of ham and their designations of origin inside out.

Clearly, it's not the same as a Iberian acorn-fed ham as a field-grazing Iberian ham, and the cutter will know perfectly how to cut that particular type of ham to bring out its unique taste. Another important factor contributing to a ham cutter's salary is that they carry three high-quality tools, or rather, the three great allies for cutting top-quality ham: the honing steel or sharpening rod, the boning knife, and the ham knife. These three tools are essential to preserve the quality of the piece and respect its organoleptic properties.

The shape of the cuts will also be impeccable, as they will make them very appealing. What does that mean? Elegance is another essential virtue in their profession. Did you know that from a five-kilo ham, a little over two kilos are used? With a professional cutter, you can be sure that you will fully enjoy those two kilos because they will know perfectly how to make the most of your ham.

In conclusion, now you know what determines the salary of a professional cutter: years of experience, professionalism, and elegance in the cut, product knowledge, and maximum use of the piece. Not bad, right?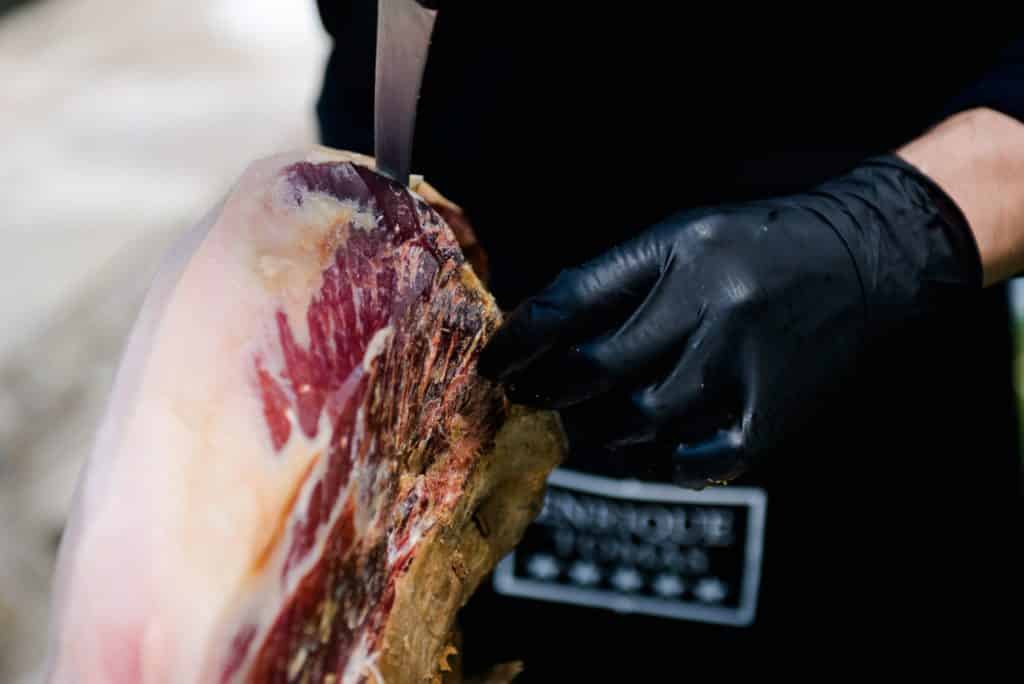 Prices of Iberian ham cutters
At
Enrique Tomás
, we offer not only the
highest-quality hams
but also services with professional ham cutters. We can attend your parties or special events, so if you're wondering how much a professional ham cutter charges for a wedding, here are our prices to clear up all your doubts:
| 100% Iberian Acorn-Fed Ham | 50% Iberian Field-Grazing Ham | 50% Iberian Ham |
| --- | --- | --- |
| Ham Kit | Ham Kit | Ham Kit |
| Cutter | Cutter | Cutter |
| Trays | Trays | Trays |
| 2-hour cutting service | 2-hour cutting service | 2-hour cutting service |
| 649€ | 500€ | 450€ |
We also offer
hand or machine cutting services
for all types of ham, from Gran Reserva Ham to Cebo Ibérico, Cebo Campo Ibérico, or 100% Iberian Acorn-Fed Ham. You can check all the prices here.
Events to Include Iberian Ham
We believe that ham is synonymous with pure pleasure because "
nobody eats ham to stave off hunger
," so any kind of private or public event is a good excuse to have ham, and with it, a professional cutter who will prepare it perfectly. Weddings, conferences or fairs, civil ceremonies, birthdays, openings, corporate events...
Any occasion is a good one to include freshly cut Iberian ham. That's the only way to fully enjoy its flavor. Because you know that the best way to eat ham is right away. Cut and eat, even better without even putting it on a plate.
At Enrique Tomás, we have the best ham cutter for your party
With Enrique Tomás, you can hire the best professional ham cutter for your event. Plus, you won't have to worry about anything: they will come with a ham kit, cutter, and trays. You can also ask us about
how to buy ham
, buy shoulder ham, but also cold cuts, cheeses, wines, and cavas. Take advantage of our quality products and services.
Visit our online shop and discover all our fantastic products!