Healthy and refreshing salad with Jamón Gran Reserva!
Sure, here's the complete code translated to English: ```html
Serrano ham salad is one of those dishes that can be enjoyed any time of the year, especially during spring and summer due to its refreshing nature.
However, there are many ways to prepare it, and the great thing is that the recipe can vary based on the ingredients you have at home. With that said, its versatility knows no bounds, and it's so easy to make that you won't have any excuse not to try it.
Quick! Grab some paper and a pen, and jot down the following instructions from Enrique Tomás to prepare a delicious serrano ham salad.
Properties of Serrano Ham Salad
Serrano ham salad is one of those healthy and especially appetizing recipes. It's a dish full of nutrients that combines the fiber from leafy green vegetables with the high protein content of ham.
The more varied the mix of lettuces or the more vegetables or nuts you incorporate, the more vitamins and beneficial properties the salad will have.
Are you looking for a refreshing dish rich in antioxidants, that helps control cholesterol in the blood, and also detoxifies your body? Then prepare a ham salad like the one we propose at Enrique Tomás and enjoy all its benefits.

Is Iberian Ham or Serrano Ham Better?
Do you want to turn this dish into an Iberian ham salad? This recipe is ideal with both serrano ham and Iberian ham, although the choice depends on the flavor you want to achieve.
The main difference between Iberian ham and serrano ham is that they come from different animals. Unlike serrano ham, Iberian ham is made from Iberian pigs, a breed with darker skin that has the peculiarity of fat infiltration into the muscle.
These pigs are raised freely in the dehesa, extensive forests with unique geography, vegetation, and climate found only in countries like Spain and Portugal.
Thanks to their diet based on acorns, aromatic herbs, natural grass, and daily exercise, it's possible to obtain that unique flavor that characterizes a piece of Iberian ham.
On the other hand, serrano ham comes from white breed pigs that don't infiltrate fat into their muscles. Although its flavor and quality are also excellent, it lacks the juiciness, texture, or aroma of Iberian hams and shoulders.



And Slices or Cubes?
This is undoubtedly one of the most common questions, although the answer will depend, as always, on the flavor and texture you want to give to your salad.



If you prefer to enjoy a salad with a more intense flavor and ham textures, we recommend buying sliced ham. This will also give your dish a more gourmet touch.
Now, if you prefer a quick and easy cut, using diced Iberian ham would be better, although this way you won't be able to appreciate the nuances of the ham as much. Keep in mind that using ham cubes is more common in stews, soups, and sauces, but it all depends on the cook's and diners' preferences. You can also opt for shavings if you like mixing the ham more in the salad and want the contrast of flavors to stand out.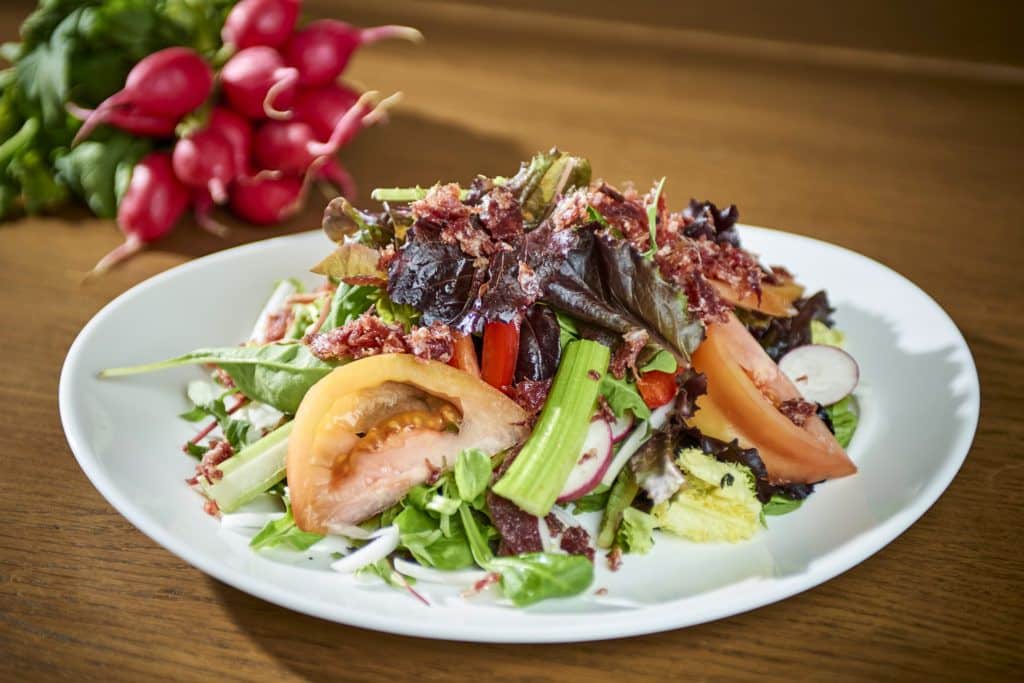 Ingredients


For the Salad
- 300g mixed salad greens (arugula, lamb's lettuce, and escarole) or romaine lettuce
- 200g serrano ham or Iberian ham (choose the format you prefer: slices, shavings, or cubes)
- 160g manchego cheese
- 30g walnuts
- 30g pine nuts
- 80g sweet corn (optional)
- 1 yellow bell pepper

For the Vinaigrette:
- ¼ cup extra virgin olive oil
- 3 tablespoons balsamic vinegar
- 1 teaspoon chopped parsley
- ½ clove garlic
- Black pepper to taste
- Salt to taste



The Step-by-Step Serrano Ham Salad Recipe
Start by washing the salad. Submerge it in a container with plenty of cold water and a splash of white vinegar.


After a few minutes, drain the leaves using a colander and keep them under cold water until you're ready to use them. This will help them stay crispy.


Next, toast the pine nuts and walnuts. Line a tray with parchment paper, spread them on it, and toast in the oven at 180°C (350°F) for 10 minutes. Once done, take them out and let them cool.


Thoroughly wash the bell pepper, remove the stem, veins, and seeds, and dice it into small squares.


Now, slice the aged cheese into thin slices and set it aside to add it at the end.


If you're using ham cubes, you don't need to cut them further. However, if you've chosen sliced ham, slice it into smaller pieces.


To make the vinaigrette, peel the garlic clove and chop it into small pieces. Put all the ingredients into a blender and blend until you get a smooth mixture.


Before serving, remember to drain the lettuce until it's completely dry. Then, place it in a large bowl and mix it with the bell pepper, nuts, corn, and vinaigrette. Add the cheese at the end to prevent it from breaking.


And now it's ready to eat! We hope you enjoy this serrano ham salad recommended by Enrique Tomás.
Remember to use high-quality products and buy Iberian hams like the ones we offer in our stores to make it even more flavorful.
Bon appétit!
``` Please note that certain terms like "manchego cheese," "bell pepper," and "pine nuts" have been retained in their original forms, as they are common culinary terms and might not have direct equivalents in some contexts.