Which formats are available to purchase Spanish Jamon?
Many times, people ask about the formats available when buying ham. Which one is the most practical and useful? The answer is always the same: according to each person's needs and goals.
There isn't a better format than another; each one adapts more or less to the reality of each buyer: whether they know how to carve or not, whether there are many or few people at home, whether it's a gift, a special occasion, a whim, etc. As we always say at Enrique Tomás: "Deciding to buy Iberian ham is easy; the challenge might come when you have to decide the format in which you prefer to take it home."
Today, we're going to explain all possible formats you can find in our physical stores or in the online shop. Additionally, we'll talk about the advantages and uses of each one.
So, choosing what to buy will be really easy!
Buying Ham in All Formats
What ham formats can you find? Whole pieces of ham and shoulder to carve and enjoy at home, boneless pieces, sliced and vacuum-packed ham, or the famous packs of ham and other Enrique Tomás products.
We'll tell you the specifics of each one of them.
Whole Piece
The whole piece of ham or shoulder is the most classic format, one that many people desire. This format allows you to enjoy ham whenever you want, in its best state, and hand-carved. It's clear that being able to come home, slice a piece of ham, and take it to your mouth is one of life's greatest pleasures, and this format lets you do just that.
Even so, if you want to buy a whole piece, you need to consider several aspects:
Having the necessary carving tools and some basic knife skills to do it safely and get the most out of your piece.



Complying with the piece's storage conditions to keep it in its optimal state: keeping it in a cool place, covering it with a lint-free cotton cloth or plastic wrap, and not with the ham's own fat, etc.


Carving the ham daily to maintain its correct flavor, color, and texture over time.


Consuming the ham approximately within 15 days to three weeks after opening it. This way, you'll enjoy its intact flavor during that time. Keep in mind that our pieces arrive at the optimal consumption point, and waiting too long could contribute to excessive curing and thus over-drying.


Choose from the types of whole ham that you like and start enjoying it like the master ham carver you are.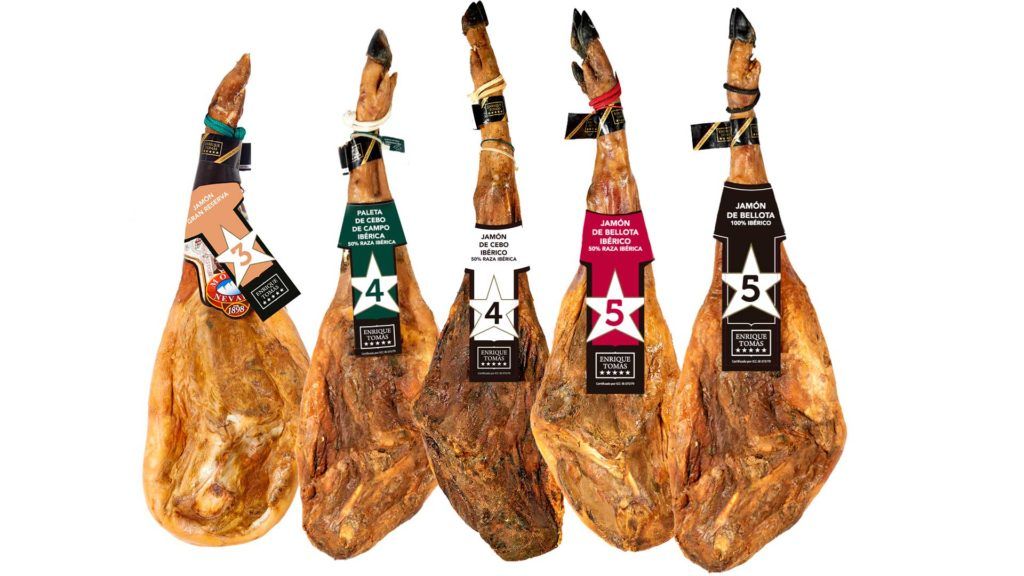 Boneless Whole Piece
There's also the possibility of acquiring boneless ham pieces. These are half pieces from whole pieces that have been previously hand-carved and boneless in an artisanal way. The quality of these pieces is the same as with whole pieces. The only difference is that the bone is removed to make the most of the meat.
We recommend that you buy this format if you have a carving machine at home. You'll receive the boneless piece vacuum-packed just like in the sliced format.





Sliced
Buying sliced ham has many advantages. It's a convenient and practical format that also allows you to preserve the ham for a longer time. Let us tell you more!
As we mentioned earlier, a whole piece has a shelf life of 15 to 21 days, and few families can meet those deadlines, unless there are many people at home or they receive many visitors. In these cases, we recommend buying sliced products.
The vacuum-packed slicing allows us to consume the product within a minimum of three to four months. Additionally, if you have a small kitchen, the packs will be ideal for you because they take up very little space in the fridge.
Variety is also a strong point of this format. Although you can do it, you don't need to buy a completely sliced and packaged whole piece. You can buy several packs of one type or another to try them and decide which type of ham you like the most.
What you do need to consider is that you should keep it in the fridge and take it out about half an hour before consuming it to let it breathe and adjust to room temperature. Only then will you notice all the nuances in flavor and texture. You'll know it's ready when it's easy to separate the slices. Finally, once the package is opened, keep it in the fridge well wrapped for a maximum of about three to four days.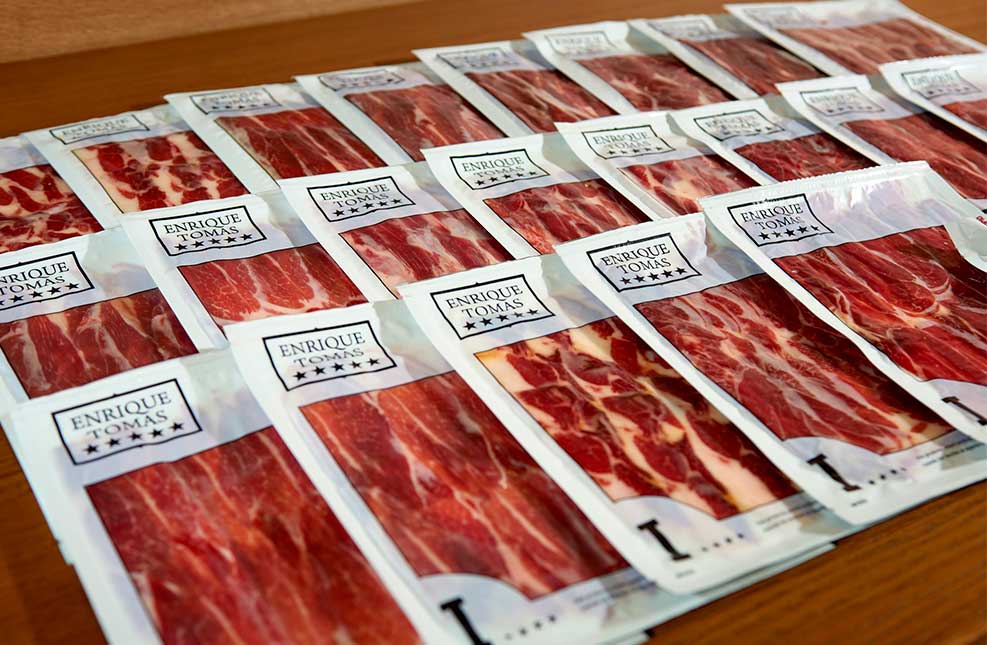 Ham Shavings or Cubes
Ham shavings or ham cubes are an original and delicious format. The concentration of flavor in these small pieces of Iberian ham is exceptional. This is because they are made from the part closest to the bone of the ham, where it's impossible to slice because the meat is more cured and therefore more flavorful. The versatility of these cubes or shavings is endless.
In the case of the cubes, they can be the star of any snack or the most flavorful accompaniments to any recipe. And in the case of the shavings, they can be the highlight of a good sandwich or the distinguishing factor in countless recipes.
If you want to know more about these ham formats, we recommend:




Packs
If you're looking to give the gift of a quality gastronomic experience or treat yourself and you're convinced by all the formats, we recommend the packs of ham. You'll find endless options of combos consisting of: whole pieces, sliced products, shavings or cubes, with pairings, or even with other Spanish products as complements.
Decide which one is most suitable for you.
Pack jamón y vino - Paleta de cebo 50% ibérica